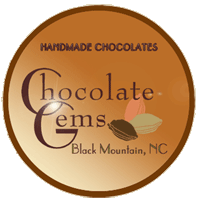 Our favorite chocolatiers in Black Mountain, Chocolate Gems, have really outdone themselves this time. Not only do these artisans make chocolate bark, chocolate boxes (very cool looking and tasty!), chocolate sculptures, chocolate bars and decadent truffles in flavors like coffee caramel, ancho chipotle, chocolate margarita, peanut butter, lavender — oh, the list goes on — but now they make melt-in-your-mouth gelato.
Gelato is the Italian version of ice cream, with half the fat and more flavor. It's the perfect treat as we head into warm weather months and you can try a free sample at Chocolate Gems, but if you like strawberry flavored gelato, you might have to hurry before Brigette eats it all.
You can find Chocolate Gems on East State Street in the heart of downtown Black Mountain, right next to the Merry Wine Market, another of our favorite shops.