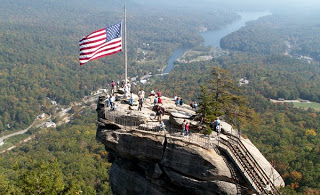 Looking for something to do as the summer winds down? Our friends at Chimney Rock Park, just a half hour south of the Inn on Mill Creek and the Black Mountain area, have several events going on in August, such as:
August 8: Off the Beaten Path Hike: Know Your Trees
In the peak of summer, the woodlands are dense with information. On this hike, which is part of Chimney Rock Park's "Off the Beaten Path" series, you'll learn how to recognize trees and shrubs at a glance and make them familiar companions wherever you hike. Participants will see at least 30 different trees amid this easy 2-hour woodland excursion.
August 15: Music on the Mountain
Chimney Rock Park and the Rutherford County Arts Council will present an afternoon of live music with Phil and Gaye Johnson and the Dowden Sisters, from 3-6pm on the Meadows. Each band will play two 45-minute sets. There will not be an additional cost. Food will be available, but you're welcome to bring a picnic. Long-time residents of the Blue Ridge Mountains, Phil & Gaye Johnson offer a unique blend of traditional and contemporary folk, bluegrass and country music, along with generous portions of western swing, cowboy, blues and Old-Time traditions. The duo also hosts the nationally-syndicated King Pup Radio Show. The Dowden Sisters, from Asheville, blend lively fiddle tunes, exceptional vocals and instrumentals, plus sweet harmony singing for an unforgettable Appalachian sound. August 17-21: End of Summer Family Fun Week
Bring the family to The Classroom on the Meadows for a week of free programs. Each day will bring a new program, from Marvelous Mammal Monday to Frolic to the Falls Friday. Programs will last 1 to 1 1/2 hours. More details are available at the Chimney Rock Park website.
August 27-30: 5th Annual Hickory Nut Gorge Olympiad
This four-day sport and community festival features dozens of events and activities. For the hardcore athlete, there's the triathlon, Race to the Rock or five-mile run. More of a weekend warrior? Try the 3×3 basketball, golf or the pontoon boat challenge. There's plenty for non-athletes and kids, to.! Visit www.hickorynutolympiad.com for more information.
Even if you're visiting our neck of the woods when there isn't a specific event going on, Chimney Rock Park is a great place to spend a few hours or the entire day. Views of Hickory Nut Gorge and Lake Lure from the Chimney are, as they say "Gorge-ous" and several trails will lead you around the Park from the top of the chimney to the bottom of Hickory Nut Falls.
And if you'll be staying with us at the Inn on Mill Creek, be sure to pick up a trail map and your coupon good for $2 off your tickets to Chimney Rock Park.