We always enjoy the guest pets who join their owners for a fun stay at the Inn on Mill Creek. Just last week, the innpugs, Csaba Pugga and Bugsy Pug, made two new friends, Grayson and Scout, who were vacationing along with their respective humans at the B&B. Since we always travel with the innpugs in tow, we know how nice it is to find a pet friendly area. And that's one of the reasons we (and the pugs) enjoy living in the dog-loving Asheville and Black Mountain area.
Many of the restaurants with outdoor patio seating will allow pets in warm weather months, and even some of the shops welcome pets. There are dog parks for playing, and dog bakeries where you can find treats for your four-legged family member.
And yes, there are even events tailor-made for you and your dog, including Chimney Rock Park's Bark at the Park, scheduled for April 24 this year. Chimney Rock Park, located a half hour south of the Inn on Mill Creek, shares the following about Bark at the Park:
Your pup (and you!) is in for a tail-wagging good time as our Meadows transforms into a doggie dream park. This day of canine adventure features agility demonstrations, info booths and lots more. Don't forget the leash.
This year's contests are Most Phenomenal Pet Trick, Best Dressed and Dog & Owner Look-a-Like. Winners will receive fun prizes from vendors and Chimney Rock.
Participating vendors so far: Guide Dog Foundation, Paws2Care, Bone-A-Fide Bakery [one of Csaba and Bugsy's favorite places in Black Mountain!], Best Friends Pet Cemetery, NC Search & Rescue Dogs, Chain Free Asheville, Cynthia's Twigs, TheraPets
While you're at Chimney Rock, don't forget that there are some really nice trails that you and your dog will enjoy. Csaba and Bugsy recommend the Hickory Nut Falls Trail. Here they are last November, making their way to the bottom of the falls while getting the usual oooohs and ahhhhs from the admiring public…they do a great job of putting a smile on everyone's faces: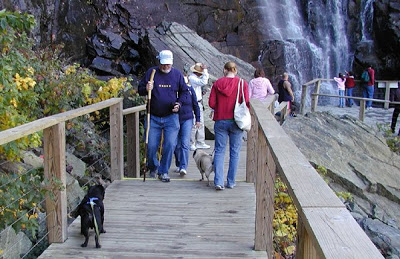 And here's one more photo of them relaxing along the trail (well, Csaba, also known as Ferdinand the Bull, is relaxing…Bugsy is ready for more hiking!):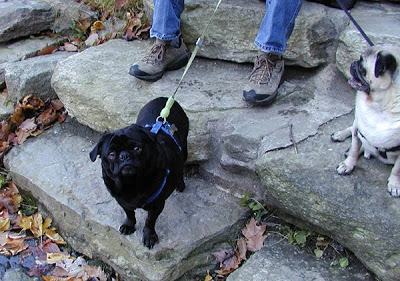 A helpful tip: Dogs are welcome on the trails on leash, but they are not permitted indoors, including in the elevator to the Chimney. However, you can reach the Chimney with your dog by taking the Outcroppings Trail.