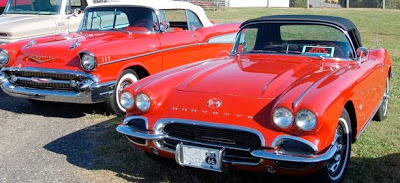 Photo from McDowellNC.org
We're excited about a new event coming to our area: The Route 70 Cruisers will be hosting the first annual Mountain Thunder Car Show in the town of Old Fort on Saturday, April 24.
Who are the Route 70 Cruisers? They are based in our county, McDowell County, and their name comes from Highway Route 70, which was the main highway in the area before I-40 was constructed. We love this description from the Route 70 Cruisers website:
We are a group of car enthusiasts who came together with a common goal. To cruise, enjoy our cars and enjoy being with family, friends and cruisers with the same common interest. We believe that cars were made to be driven and enjoyed.
The car show is free and will be held from 9am to 5pm, on Commerce Street, about 15 minutes from the Inn on Mill Creek. Along with the opportunity to see cars, motorcycles and trucks on display from various clubs in the area, you can also check out crafts, enjoy great food and hear a musical performance by the Rewind Band, all in our charming little town of Old Fort (which also will be celebrating Pioneer Day on April 24).