The 33rd Annual Sourwood Festival will be held August 14-15, 2010, in Black Mountain, NC, a charming artsy town that's just 12 minutes from the Inn on Mill Creek.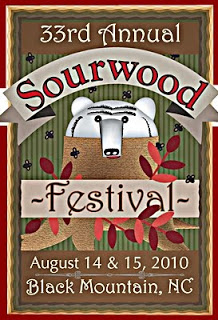 Logo designed by George White
of Black Mountain and Greensboro, NC
The Sourwood Festival, sponsored by the Black Mountain-Swannanoa Chamber of Commerce, is an annual street festival where you can browse the arts and crafts of hundreds of vendors, see honey bee demonstrations and sample festival food. Plus, festival-goers will be entertained all weekend long by local singers and performers, including the Flat Creek Boys, the Asheville Clogging Company, David Cody, the Black Mountain Ramblers and Cheri Cagle, just to name a few. [Visit the Black Mountain Music Scene site for the full list of entertainers.]
In conjunction with the festival, singers will compete for cash prizes in the
Sourwood Idol
contest on Friday, August 13, to be held from 7pm to 11pm under the Big Entertainment Tent on Sutton Avenue in downtown Black Mountain, while early risers can catch a 5K run/walk at 8:30am on August 14, at Cheshire Fitness Club just south of downtown.
What is sourwood, you ask? The sourwood tree and our lovely honey bees provide our area with very tasty local sourwood honey (which we like to use in our breakfast recipes, such as the one for Brigette's fresh fruit honey lime cocktail). The sourwood tree has white blooms in the summertime, and its leaves put on a fiery red color display each autumn. It's a beautiful tree, worthy of having a festival named after it, that's for sure!
For more details about the annual Sourwood Festival, which also has been included in this year's events celebrating the Blue Ridge Parkway's 75th anniversary, visit www.exploreblackmountain.com.