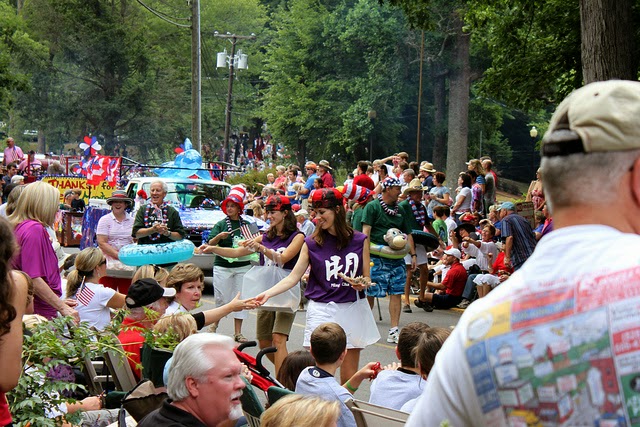 Montreat Parade [photo credit: veganlibrarian on Flickr]
Exciting news: All of the towns around the Inn on Mill Creek Bed & Breakfast — Asheville, Black Mountain, and Old Fort, North Carolina — will have fireworks displays this year! Of course, there are other events going on, and if you want to avoid the crowds, we can help with that as well. Here's what's happening in our neck of the woods during the 4th of July weekend:
July 4 in Asheville: Pack Square Park in downtown Asheville will have live music starting at 4pm on Friday, July 4. There will also be food vendors and local brews and wine available for purchase. Fireworks start at 9:30pm
July 4 in Black Mountain / Montreat: The annual Montreat 4th of July Parade kicks off at 10:30am. If you love small town parades, this is a must-see! Black Mountain will host a family friendly street party starting at 5pm on Sutton Avenue, with fireworks to follow around 9pm.
July 4 in Old Fort: The small community of Old Fort will host its first fireworks event since 2006, with a 45-minute display along Catawba River Road. The parade begins at 4pm at the Elementary School.
Other weekend events:
Mountaineer Antique Car Show (July 4-6 in Asheville): www.mountaineerantiqueautoclub.com
Arts Mart (July 5 in Old Fort): http://arrowheadart.org/artsmart.php
Creative Mountain Food Tours Ultimate Foodie Tour (July 5 in Black Mountain): http://creativemountainfoodtours.com
Shindig on the Green (July 5 in Asheville): www.folkheritage.org/shindigonthegreen.htm
Spruce Street Market (July 5 in Asheville): www.appalachiancraftcenter.com/events/ym2014/6d/23/tspruce-street-market
Tailgate Market (July 5 in Black Mountain): blackmountainmarket.org
Oh, and if you really are wanting to avoid the crowds, afternoons in our Great Room at the Inn on Mill Creek are usually pretty peaceful.