We've been working hard to prepare the Inn on Mill Creek to reopen as the state of North Carolina continues its phased reopening of the state, and we're excited to welcome guests again to our Bed & Breakfast near Asheville, NC, beginning May 22, 2020, with a few adjustments. Read on for details.

We have updates regarding our COVID-19 adjustments, effective April 1, 2021. Please visit the following link for the updated information: https://www.innonmillcreek.com/blog/2021/03/welcoming-guests-to-the-inn-on-mill-creek-updated-covid-19-adjustments.html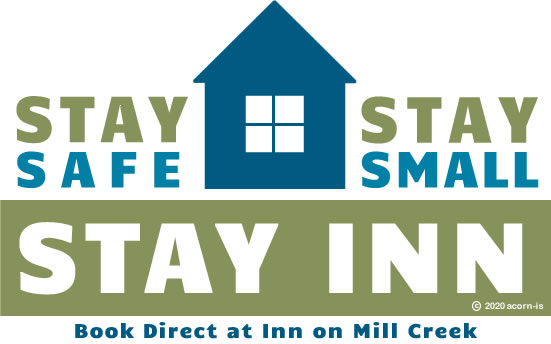 We know that a lot of you have cabin fever and are ready for a getaway after staying at home for so long. We are cautiously and carefully proceeding with reservations, and your safety and comfort remain our top priority along with our commitment to provide a stress-free and relaxing home base for you while you're visiting our area.
Current measures in place include limited occupancy, a self check-in option during normal check-in times, spaced seating at breakfast, and other procedures to make social distancing easy. Of course, our location two miles inside Pisgah National Forest, our small size and large property, and the way guest rooms and our dining space are configured at our Bed & Breakfast are already well suited to give you plenty of elbow room. And as a licensed hospitality business that is regularly inspected by our health department and a longtime member of our state and national lodging and B&B associations, you can be assured that we will continue to keep high standards of cleanliness and safety. In addition to the steps we are taking at the Inn on Mill Creek to keep you safe, as part of our preparations we were among the first Bed & Breakfasts in North Carolina to participate in Count On Me NC, which is offering COVID-19-specific business best practices training, developed by public health officials and food safety experts.
The following supplementary adjustments to our procedures and policies are in place through March 31, and subject to change as necessary. We will be reassessing our procedures soon and will be posting an update for April 1, 2021 and beyond – stay tuned!
Reservations and Occupancy… Keeping It Small
Occupancy will be kept at no more than 4 guest rooms at a time (8 guests max).
A minimum 24-hour buffer will be in place around each room reservation to allow for deep cleaning and disinfecting between guests.
When possible, guest rooms in the Deck House will not be reserved at the same time unless it's a group traveling together.
As always, our policy is to take payment for your deposit and reservation balance securely online using your credit card on file. We currently ask that you not use a different card to pay your balance at this time in order to reduce our contact with your personal property. Also, no cash or check payments please at this time.
Check-In Procedures
If you would like to take advantage of our self check-in option, where you receive details for getting to your room and other instructions in advance rather than at check-in, select self check-in during your online reservation process or while making your reservation over the phone. Instructions will be sent to you after your reservation is confirmed. Of course, we're always available by phone or email if you need us. As with regular check-ins, self check-ins begin at 3:00 pm.
If you prefer a regular check-in, we're still doing those, too! We're always happy to welcome you with a smile and hello and show you to your room. We only ask that you please wear a mask and help us follow proper social distancing measures so that we can remain open for business.
Breakfast
The Inn on Mill Creek dining area is set up well for social distancing, with separate tables in the dining solarium that seat no more than 4 people (one table per party) and setting tables that are at least six feet apart. When the weather turns cooler and we transition to seating in the Main House dining area, we will continue seating guests six feet apart.
We continue offering two breakfast seatings. However, there may be a chance that we ask you to choose a specific seating time in order to allow us to keep social distancing protocols in place when the weather turns cooler and we transition from the solarium to the Main House dining area inside.
Breakfast delivery to your room is available on request.
As a licensed Bed & Breakfast, we are already ServSafe certified in food service and safety.
Our health department regulations already require that we have a commercial dishwasher that cleans and sanitizes dishes, glasses, and silverware.
Housekeeping
The Inn on Mill Creek already follows strict cleaning guidelines set forth by our county health department and we're inspected regularly, so you can be assured that our housekeeping best practices will continue, including laundering of all bed and bath linens between stays, routine cleaning and disinfecting of surfaces and frequent-touch items like remote controls and light switches, and so forth. And we're making sure that guest rooms and common areas are being cleaned and disinfected in accordance with special guidelines from the independent lodging industry, hospitality industry, and the CDC.
We have paused our standard daily housekeeping service to minimize our contact with your room during your stay. Fresh towels or bed linens, trash removal, etc., are available by request for stays of two nights or more. If you know that you will need extra amenities in advance, please let us know and we'll do our best to accommodate you.
Room keys continue to be sanitized prior to and after each guest.
We encourage frequent hand washing and continue to offer anti-bacterial liquid hand soap in all guest bathrooms and any common areas with sinks.
Our complimentary room amenities now include small take-home bottles of hand sanitizer.
If you borrow games, puzzles, books, magazines or movies from common areas during your stay, we ask that you please leave them in your room at check-out so they can be cleaned and sanitized as part of our housekeeping process before being put away.
Adjustments to our Cancellation Policy
Our normal cancellation policy is back in effect, with the exception that if new travel restrictions are put in place during the time that you have a reservation with us, your reservation will be canceled and your deposit refunded.
Helpful Planning Tips for Our Guests
Our local businesses and attractions are requiring that visitors wear masks to comply with North Carolina's Phase 3 of reopening the state. Masks are currently required indoors when you are with people who are not from your household, and outdoors when six feet of physical distance cannot be maintained. Most businesses and attractions are sharing their policies on their websites and social media so that you can plan ahead. Please wear your mask at the Inn on Mill Creek B&B when you are in the same room as other guests.
Many of our local restaurants are currently offering carry-out/curbside service, and also offering on-site dining at 50% capacity under North Carolina's Reopening Phase 3. As always, you are welcome to bring food back to the Inn on Mill Creek for dining here on the property. We have plenty of room for you to enjoy lunch or dinner. You'll get a list from us prior to your stay with the names of restaurants that are open, their hours, phone numbers and addresses, and what kind of service they are providing. Please be aware that information can change quickly at this time.
For everyone's safety, we ask that you delay your plans to stay with us if you're not feeling well, if you know you've been exposed to someone with COVID-19 within the past few weeks, or if you are a member of a high-risk group who would feel safer being at home. We will be here when you are ready and able to travel.
Finally, we'd like to take a moment to say THANK YOU to everyone who has sent us messages of encouragement and support. As a small business, this has been a tough experience, but we are so grateful to have the best guests and a wonderful support system.
If you have any questions, please feel free to contact us by phone at 828-668-1115 (9:30 am to 9:00 pm EST) or email at info@innonmillcreek.com.
Visit our website for availability and to reserve your stay: www.innonmillcreek.com.