We want to take the opportunity to say a huge THANK YOU to everyone for your support and to all of you who stayed with us over this past "not-normal" year and a half. We are so grateful for you!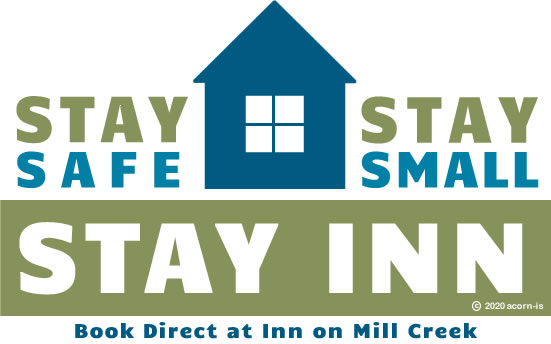 The Inn on Mill Creek Bed & Breakfast reopened in late May of 2020, after being closed for three months during the beginning of the COVID-19 pandemic. Over the past year, we've had several adjustments in place to help you stay safe during your travels to our neck of the woods. We want to continue providing a stress-free, relaxing, and safe environment for you and starting April 1, 2021, we continue some of our adjustments while moving toward transitioning back to somewhat normal operations when it comes to other procedures. We remain vigilant and cautious, with your safety and comfort as our top priority. Ready to travel? Read on for details!
UPDATED AUGUST 21, 2021
Reservations and Occupancy
After nine months of limiting occupancy to three rooms at a time in 2020 and early 2021, we have been transitioning back to regular occupancy in mid-2021. Keep in mind the Inn on Mill Creek is a small but spacious Bed & Breakfast. We have just five rooms total, split between two buildings, and our B&B is set on 7.5 private acres with no neighbors, so you can feel peace of mind that there are no crowds here.
Masks are not required statewide in North Carolina, and statewide social distancing requirements and capacity restrictions were lifted effective May 14, 2021. North Carolina's Coronavirus Task Force updated its guidance on July 29, 2021, to align with the CDC's guidance on travel and safety. See links at the end of this post for details.
In August of 2021, some counties and local municipalities in North Carolina began requiring masks indoors for anyone, regardless of vaccination status. This includes shops and restaurants. Buncombe County, where Asheville and Black Mountain are located, has adopted a local mask mandate effective through at least September 30, 2021, requiring everyone to wear masks indoors. Please plan to bring a mask with you if you will be visiting Asheville or Black Mountain.
We are fully vaccinated at the Inn on Mill Creek Bed & Breakfast and continue social distancing protocols but are happy to wear a mask if you would like for us to do so when you are here. If you feel more comfortable wearing a mask, please do so.
Check-In Procedures
We are back to doing in-person check-ins, but continue to offer the option of self check-in during our normal check-in hours at this time.
If you would like to take advantage the self check-in option, where you receive details for getting to your room and other instructions in advance rather than at check-in, please select self check-in during your online reservation process or while making your reservation over the phone. Instructions will be sent to you after your reservation is confirmed. Of course, we're always available by phone or email if you need us. As with regular check-ins, self check-ins begin at 3:00 pm.
Breakfast
For the comfort of our guests and until updated specific guidelines for eating establishments are released by the state health department, we continue to seat guests from different parties at least six feet apart at separate tables.
As always, we offer two breakfast seatings. There may be a chance that we ask you to choose a specific seating time in order to allow us to keep social distancing protocols in place.
Breakfast delivery to your room is available on request.
As a licensed Bed & Breakfast, we are already ServSafe certified in food service and safety.
Our health department regulations already require that we have a commercial dishwasher that cleans and sanitizes dishes, glasses, and silverware.
Housekeeping
The Inn on Mill Creek already follows strict cleaning guidelines set forth by our county health department and we're inspected regularly, so you can be assured that our housekeeping best practices will continue, including laundering of all bed and bath linens between stays, routine cleaning and disinfecting of surfaces and frequent-touch items like remote controls and light switches, and so forth. And we're making sure that guest rooms and common areas are being cleaned and disinfected in accordance with special guidelines from the independent lodging industry, hospitality industry, and the CDC.
Daily housekeeping has returned to normal; we freshen rooms daily during the hours of noon and 2:00 pm. You may opt out of daily housekeeping.
Room keys continue to be sanitized prior to and after each guest.
We encourage frequent hand washing and continue to offer anti-bacterial liquid hand soap in all guest bathrooms and any common areas with sinks.
Hand sanitizer is available in all guest rooms and guest areas.
Adjustments to our Cancellation Policy
Our normal cancellation policy is in effect, with one exception: If you test positive for COVID-19 before your stay, please contact us as soon as possible and we will move your reservation to a date in the future, subject to availability, without penalty. If you cannot reschedule right away, we will convert your deposit to a gift certificate and you will be able to use it for a future stay within 6 months.
Helpful Planning Tips for Our Guests
Some of our local municipalities as well as local businesses and attractions are continuing to require that visitors wear masks. Most businesses and attractions are sharing their policies on their websites and social media so that you can plan ahead.
Restaurants can offer dine-in service up 100% capacity indoors and outdoors effective May 14, 2021. As always, you are welcome to bring food back to the Inn on Mill Creek for dining here on the property. We have plenty of room for you to enjoy lunch or dinner.
Informational links: North Carolina's latest guidelines (July 29, 2021), CDC's latest guidelines for travelers and Guidelines for those who have been fully vaccinated
If you have any questions, please feel free to contact us by phone at 828-668-1115 (9:30 am to 9:00 pm EST) or email at info@innonmillcreek.com.
Visit our website for availability and to reserve your stay: www.innonmillcreek.com.