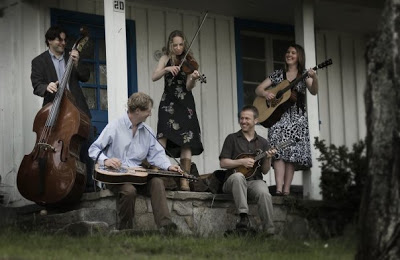 Dehlia Low will perform July 8 at Park Rhythms in Black Mountain
[photo: Dehlia Low Facebook Page]
Black Mountain Recreation & Parks is currently putting on its 15th season of Park Rhythms, a series of outdoor summer concerts every Thursday evening. Bring a blanket or chair to Lake Tomahawk Park and hear live music from 7pm to 9pm. Local restaurants sell food during the concerts as well, so you can also enjoy some local cuisine while you're listening to our local singers and bands. And thanks to several of our area businesses who sponsor Park Rhythms, the shows are free to the public.
Park Rhythms kicked off this year with Kat Williams, followed by Westsound and Motownblue. If you're in our neck of the woods on a Thursday night, you can catch one of the remaining shows this season:
July 8: Dehlia Low: www.blueridgeheritage.com/artist/dehlia-low
July 15: Firecracker Jazz Band: http://firecrackerjazz.com
July 22: AppalachiaSong: www.graybeardgraphics.com/appbio.htm
July 29: Kellin Watson: www.kellinwatson.com
August 5: Swayback Sisters: www.myspace.com/theswaybacksisters