It's been a lot of fun watching the Olympics on the HD projection TV in the Great Room. Nothing like seeing the opening ceremonies on a screen that's 5 feet by 9 feet.
This year's Olympics are really amazing for a number of reasons, one of which being that while our own innpug Csaba (pronounced "chubba") didn't qualify for the Olympics in canoeing,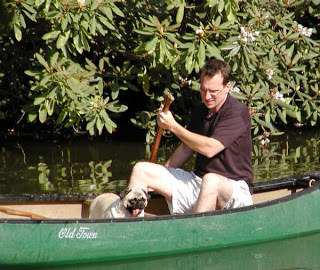 several other Csabas are competing in Beijing. Csaba has been torn between rooting for the United States, China (his heritage is Chinese after all), and Hungary with all the Csabas on the team:
Csaba Bordan (Gymnastics)
Csaba Csernoviczki (Judo)
Csaba Danko (Wrestling)
Csaba Andras Dr Dezsi (Wrestling)
Csaba Gercsak (Swimming)
Csaba Enro Gyorik (Shooting)
Csaba Hegedus (Wrestling)
Csaba Hegedus, Jr. (Wrestling)
Csaba Kiss (Judo)
Csaba Istvan Konkoly (Handball)
Csaba Elek Matefalvy (Water Polo)
Csaba Peter Mezey (Handball)
No, we are not making this up.
Being quick on his own four little feet, Bugsy is rooting for all the talented sprinters.