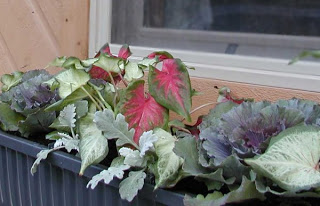 It appears that the dog days of summer are behind us and we're entering a great time of year in terms of weather. The daytime temperatures are in the 70s and the mountains cool off in the evenings to somewhere in the 50s. Perfect. No complaints here.
We took advantage of the nice weather this week (with just a little bit of misty rain mixed in) and completed some outdoor projects that we put on the to-do list this year: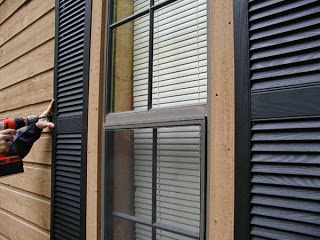 First, we installed shutters to dress up the Lake House windows. They look great! Dave put on his handyman hat, climbed the ladder with drill in hand and proceed to put up the shutters in less than an hour.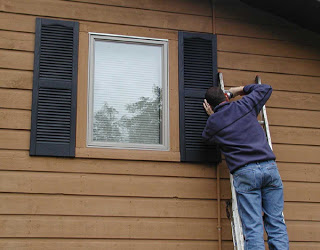 Bob Vila, eat your heart out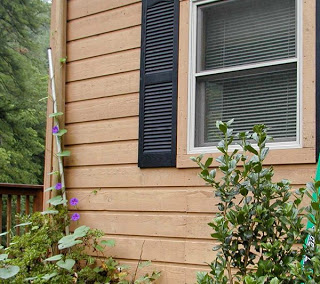 Looking good next to holly and a volunteer morning glory
We then installed flower boxes on the front windows of the Lake House. Our goal was to have them up by October 1, so we're happy to have this project completed ahead of schedule.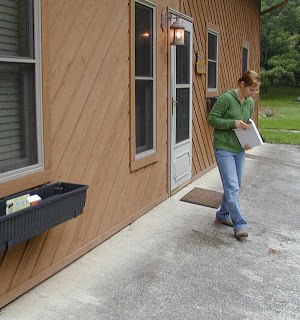 Brigette avoids stepping on a cricket…that was close
The flower boxes are exactly what the front of the Lake House needed. We started out with ornamental cabbage, caladium (elephant ear), dusty miller, aztec grass and vinca.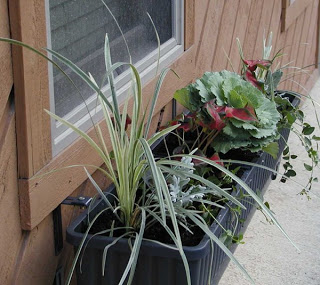 Brigette is already making plans for what she'll put in the boxes during winter and spring.
The third project this week involved replacing the concrete bird bath in the center of the pool garden. We ordered a black bird bath that has several perching spots shaped like twigs and a glass bowl. We'll try to get a photo soon. We're moving the concrete bird bath to the front porch garden where we hope a few birds will put on a show for people in the Great Room.
Speaking of projects, a rather nice project is being completed over the next few months less than two miles from the Inn. The three-mile barricaded section of Old Hwy 70 is being converted into a greenway bike trail that will be linked to other greenways in the area. This is a beautiful stretch of road known as the Point Lookout trail that runs through the woods and offers scenic views of mountains, railroads, and woods. We'll keep you posted on the progress.