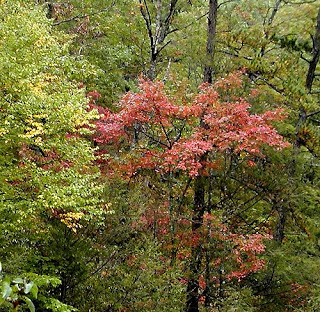 Last week, we wandered around outside, pondering when the leaves would really start changing. The last part of September showed a lot of promise at our elevation (2,300 feet), with a few branches on a few trees beginning to lighten up. We took note that the first tree on our road to change last year, a maple, bumped up his winning streak to two by putting forth three branches of brick-red leaves. But, alas, there wasn't much fall foliage action last week.
And then the past three days saw the goldenrod give way to splashes of honey and red throughout the forest. Although the majority of trees in Pisgah National Forest at our elevation are still a lush green, walk through the woods this weekend and the first part of next week and you'll discover more than a few maples, sourwoods, sumacs and dogwoods with beautiful fall color peeking out.
Here's a taste of what you'll see — all photos were taken today on the Inn's grounds. Enjoy!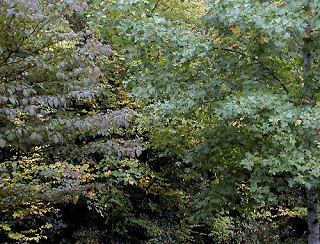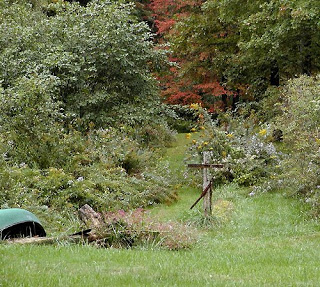 The best place to be this coming week is on the Blue Ridge Parkway. We hear that the forest around Mt. Mitchell, the highest mountain east of the Mississippi, may have its fall color peak next week. Keep in mind that a portion of the Blue Ridge Parkway around Craggy Gardens northeast of Asheville is closed until possibly Spring, so to head north on the Parkway, you will want to take Highway 70 east through Old Fort to scenic Highway 80, which will bring you north to the Parkway near Mt. Mitchell. From there, you can drive along the Parkway up to Grandfather Mountain, which is also reporting spectacular color.