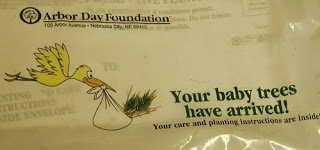 The package containing our newest arrivals
As members of the Arbor Day Foundation, we receive ten baby trees of our choice each year. Last year we chose flowering trees. Since the Inn on Mill Creek is a site on the North Carolina Birding Trail, we chose wild bird garden trees this year, which include:
Red Oak
River Birch (cool cinnamon-colored bark in the winter)
Sargent Crabapple
Washington Hawthorn
Tuliptree
Arrowwood Viburnum
Canadian Hemlock (2)
Gray Dogwood
Bur Oak
Here's what the Gray Dogwood looks like: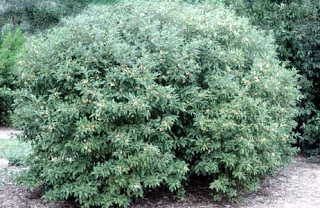 It's actually a shrub with white flowers in the Spring. According to the Arbor Day Foundation, the Gray Dogwood's "best ornamental feature is the reddish pink color of the pedicels (fruiting stalks) that are exposed when the fruit falls. The red color persists into fall and winter." This might be our favorite baby of the bunch.Speaking of babies, we also send our congratulations to Brigette's brother and sister-in-law, Carson and Laura, on the arrival of their first baby on December 2!