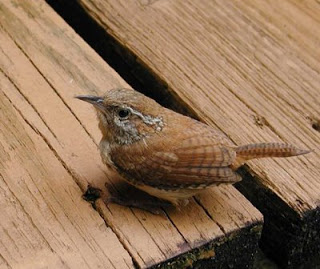 A frequent visitor to the Inn
We're proud to announce that the Inn on Mill Creek has been given the designation of Certified Wildlife Habitat by the National Wildlife Federation as well as the North Carolina Wildlife Federation.
In order to be a Certified Wildlife Habitat, an individual or organization must provide elements from each of the following areas:
Food Sources. For example: Native plants, seeds, fruits, nuts, berries, nectar
Water Sources. For example: Birdbath, pond, water garden, stream
Places for Cover. For example: Thicket, rockpile, birdhouse
Places to Raise Young. For example: Dense shrubs, vegetation, nesting box, pond
Sustainable Gardening. For example: Mulch, compost, rain garden, chemical-free fertilizer
The Inn on Mill Creek is the 112,574th Wildlife Habitat to be certified by the National Wildlife Federation.
We often get asked what kinds of wildlife we and our guests see here in Pisgah National Forest. Birds are one type of wildlife in abundance in the woods. On any given day in Spring or Summer, you might see a Carolina Wren hopping outside around the Solarium looking for left-over breakfast crumbs, view Cardinals gathering food in the early afternoon, hear a Pileated Woodpecker knocking on a tree, spot an Indigo Bunting or Swainson's Warbler perched in the same tree, see our resident front porch nest-builder, an Eastern Phoebe, flutter to a nearby tree branch, enjoy the sight of Hummingbirds flocking around the birch near the boggy area south of our little lake, and hear Whip-poor-wills and Barred Owls in the evening. Some birds, such as Cardinals, are here all year round.
Birdwatchers, bring your binoculars when you visit. In 2009, as part of our The Inn Turns 10! celebration of the Inn on Mill Creek's 10th birthday, we'll be posting on our website a list of 10 common (and not-so-common) bird species that frequently hang around the Inn on Mill Creek. If you hear or see one of the birds, let us know and we'll add your name in the "They Found It" column. Plus, send us a photo and we'll post it.
And don't forget, the Inn on Mill Creek is also a site on the North Carolina Birding Trail mountains section. For other sites, visit www.ncbirdingtrail.org.