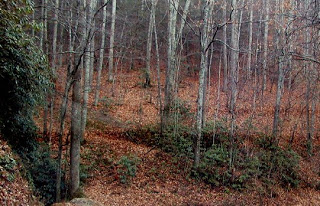 Geocache is somewhere near here…but not too near
We've hidden our very first geocache and it was approved by the reviewers at Geocaching.com, so now you'll be able to look for it when you're in our neck of the woods. We've hidden it in a serene spot and put a bench nearby so that people can take in the stillness and tranquility of the forest. You almost feel like time stops when you're there…yes, it's that peaceful, especially heading into wintertime. It reminds us that the number one reason guests tell us they like the Inn so much is because of the "relaxation factor". You get to step away from the racing heartbeat of your busy life for a little while.
It's our hope that fellow geocachers enjoy the search. We've stocked our cache with ten items for trade in celebration of the Inn on Mill Creek's upcoming 10th birthday in 2009. Enjoy!