As part of our Inn Turns 10! celebration of the Inn on Mill Creek's birthday this year, we're doing all kinds of things connected with the number 10. Soon to be added to our website will be our special Inn Turns 10! page where we detail our different 10s.
Giving microloans to 10 small business owners in developing countries is one of the items on our list of 10s. One of the highlights of 2008 for us was being able to assist with lending funds to business owners through Kiva. We were able to help people like Ngo Thi Tinh in Vietnam, Biakamangue in Togo, and Ilhem in Azerbaijan, as well as Nilton and Meredith in Peru, Mohammad and Rohullamen in Afghanistan and Vladimir in Ukraine. These are eight small business owners who are a positive force in their villages and towns, actively changing the state of their communities for the better.
We'll be continuing to do microloans in 2009, and thought that since the Inn's 10th birthday is this year, why not set a goal to fund 10 small business owners?
We've chosen our first loan of 2009 to go to Eusebia in Puno, Peru: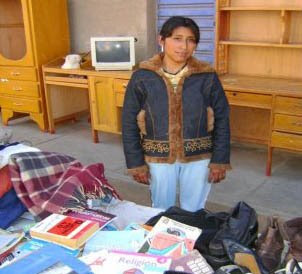 Eusebia is 25 years old and has three young children. As the owner of a small retail shop that sells clothes and second-hand items, she will be using this, her second loan through Kiva, to purchase more products to sell. What we like about Eusebia is that she's an example of someone who used her entrepreneurial skills to start and build a business, which is improving her family's life and her community's economy. Impressive for a 25-year-old!
With her first loan, Eusebia was able to buy items to sell at her store and pay back her loan, plus the profits allowed her to be able to improve her store and purchase a car for her household. It sounds like Eusebia is on the right track toward a productive business that will empower her to lift herself and her family out of poverty. Our best wishes for success to Eusebia in her endeavors!