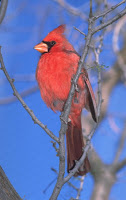 As a site on the North Carolina Birding Trail, we're happy to be counted among the participants this year in the 12th annual Great Backyard Bird Count (GBBC), a four-day bird watching event across the United States and Canada. This year, the GBBC takes place February 13-16.
The Great Backyard Bird Count, a joint project of Cornell Lab of Ornithology and the Audubon Society, helps scientists to better study year-to-year changes in the abundance and distribution of birds and patterns of migration, as well as the impact of environmental changes and disease.
To be a part of the Great Backyard Bird Count, just spend at least 15 minutes bird watching on one or more days of the count, record your bird sightings, count the highest number of individual species seen at one time, then submit your checklist at www.birdcount.org. You can also submit photos. There were over 85,000 reports and 5,000 photos submitted last year.
With seven acres surrounded by 125,000 acres of Pisgah National Forest, we're hoping to see some really great birds here at the Inn on Mill Creek this year!