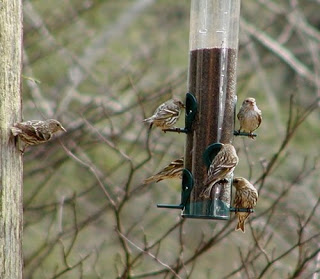 As a North Carolina Birding Trail site, we see several different species of birds on a daily basis here at the Inn on Mill Creek. Last week, eight Pine Siskins decided to eat lunch at the same time as us. We were treated to quite a show as they all tried to gather on one thistle feeder on the deck off the dining solarium.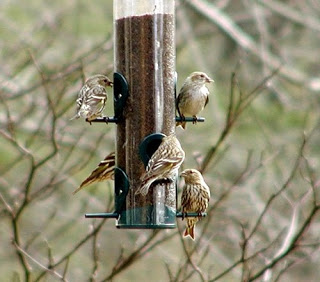 Although our Pine Siskins visited us at the beginning of Spring, the Pine Siskin is considered a winter finch. It is a small brown, heavily streaked bird with two wingbars and some yellow in its wings (and the males have more yellow than the females). Winter finches are associated with irruptions, which is the sudden upsurge in numbers of certain birds that don't normally winter in an area. More about Pine Siskins is available at the Cornell Lab of Ornithology website:
www.birds.cornell.edu/AllAboutBirds/BirdGuide/Pine_Siskin_dtl.html
Learn more about the North Carolina Birding Trail at www.ncbirdingtrail.org.