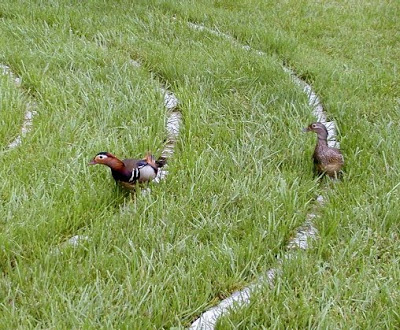 The ducks approve of our walking labyrinth
So, happily, it looks like our Asian Mandarin ducks have decided to make our Black Mountain area Bed & Breakfast one of their long-term residences. We're not sure where they came from, but the legend is already being told that the male escaped last year from the person who was keeping him as an exotic pet since Asian Mandarins clearly aren't native to North Carolina, and the following year he went back to rescue his lady friend (because this is the first year we've seen her).
As is the case with all of our more long term residential wildlife, we have named the ducks. Since they're such a cute couple, we've named them Harold and Nelva, after another cute couple and two of our favorite people, Dave's grandpa and his grandpa's wife: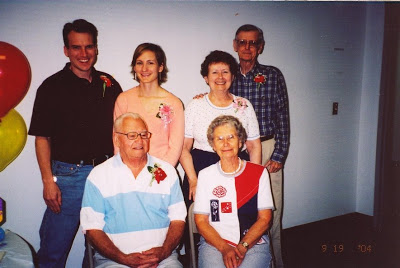 Harold and Nelva (sitting) at Harold's 90th birthday in 2004
After talking to our guests who checked in today [Happy 1st Anniversary, Steve and Teresa!]and telling them about Harold and Nelva (the ducks), we opened our mail to find a newspaper clipping from Dave's hometown paper, the Cincinnati Enquirer, sent to us by Dave's mom. The article, dated May 24, 2009, was about the first night game ever played in Major League Baseball. That game took place on May 24, 1935.
This was such an important game that it involved marching bands and a color guard and a telegraph message tapped by President Roosevelt himself to instruct the Cincinnati stadium, Crosley Field, to turn on its 632 lights at 8:30pm for the first night game ever played by major league ballplayers.
Dave's mom explained that in researching for the article, sports writer John Eradi had asked for stories from anyone who had attended the game, and Dave's grandpa sent him an e-mail. We were very proud to get to read about Harold Brown, now 94 years young, sharing his memory of driving his 1930 Ford Model A from his family farm in Wilmington, Ohio, to Cincinnati to see the game when he was 21 years old.