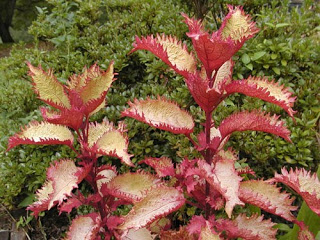 A fringed coleus provides color in the garden
while we wait for the leaves on the trees to change
The first day of Fall here at the Inn on Mill Creek inside Pisgah National Forest (2,300 feet above elevation) brought a wedding (congratulations to our guests, David and Beth!), a little bit of sun during a break in the rain we've had for the past five days, and this — our first fall foliage report for our area of the North Carolina mountains. We'll be doing fall foliage reports each Tuesday, so be sure to check back each week for a progress report on the fall color in our neck of the woods and where you can go to maximize your leaf peeping in the mountains.
So far, we've seen more color this week than the previous two years at this time of the year. We base the start of our neighborhood's fall color on our butternut trees lining the driveway. (Useless trivia: butternuts are also called white walnuts.) These trees are the first of ours to turn, the color being a pretty shade of deep yellow. Here's what our butternut leaves look like against the green grass: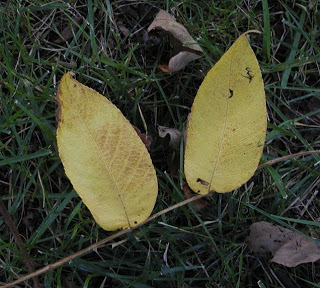 The butternut trees have begun to change one week early compared to 2007 and 2008. They are still mostly green, but isolated branches have golden leaves and we've noticed more leaves on the driveway this week than last.
Speaking of gold, Goldenrod is providing a lot of the color right now. In the garden, we have spiderwort, roses, sedum and aster in bloom, while burning bushes and our forsythia are also showing signs of change. Here's one of our forsythia bushes (they also put forth a few blooms in fall which is always nice to see):
However, all that said, Pisgah National Forest at our elevation is still very, very lush and green. Only a small handful of trees have decided that it's time to change, mostly dogwoods.
Peak color at our elevation typically happens the third and fourth weeks of October. If you'll be visiting our neck of the woods at the end of September, we highly recommend going as high as you can go — to Mt. Mitchell State Park — five miles north of the Inn. Mt. Mitchell (6,684 feet) is the highest peak east of the Mississippi River. It is named for Dr. Elisha Mitchell, a science professor at the University of North Carolina who made considerable strides in measuring the height of the Black Mountains in the mid-1800s.
Keep in mind, it does take about an hour to drive to Mt. Mitchell from our bed & breakfast near Black Mountain, as you'll be going along the beautiful Blue Ridge Parkway to Highway 128. There are two ways to get to Mt. Mitchell from the Inn. We recommend taking scenic Highway 80, which is east of the town of Old Fort, then head southwest down the Blue Ridge Parkway. You'll come to an overlook on the Parkway where you can see across to Mt. Mitchell, then shortly after that, you'll arrive at Highway 128, which brings you to a parking lot and restaurant close to the top of the mountain. A short walk from the parking lot leads to the observation deck.
Mt. Mitchell State Park also has hiking trails, so you can easily spend a few hours there if you want. One thing to remember: be sure to take along a jacket or sweater because it will be at least 10-20 degrees cooler than it is at the Inn.
We'll be documenting fall color with photos, so watch for more color as the weeks head into October!