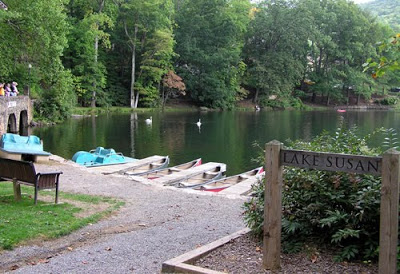 Recently, two of our frequent guests and friends, Travis and Nicole, stayed at the Inn and we spent an afternoon with them looking for geocaches in Montreat (the town that borders the town of Black Mountain to the north). For those of you who are unfamiliar with geocaching, it's the search for containers hidden by other geocachers, using latitude and longitude coordinates and a GPS receiver.
The "caches" typically contain a logbook that you sign, and items called "swag" that you can trade for items you bring (and the items you leave should be of equal or greater value). There are over 900,000 geocaches hidden around the world, and hundreds of them are hidden in our part of western North Carolina (with new ones being hidden every week by a very active group of geocachers), so we'll never run out of caches to find.
This particular late summer day brought us first to a cache at the end of our road, where the Point Lookout greenway bike trail begins. Sadly, we were unable to find that one after a long search, but no matter, we were still intent on finding some geocaches so we moved on to Montreat.
The first stop was along the Gate Trail, one of several trails in Montreat. Here's our little group on part of the trail leading down to the creek: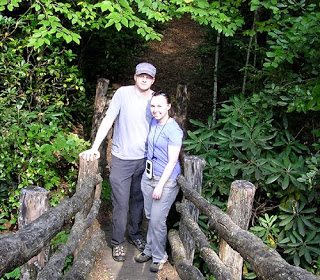 Travis and Nicole…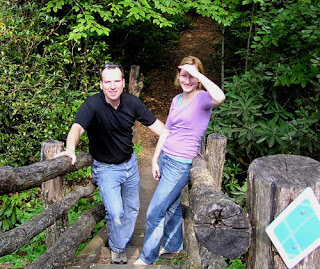 …and their sidekicks
The Gate Trail is a pretty nature trail along Flat Creek that starts near the Montreat Gate (a set of stone archways over the main road into the town) and heads north about a mile to the Nature Center. Nicely hidden along the trail was a geocache that's part of a series of 101 geocaches in the area called 101 Dalmatians. This one was #50 in the series (this was the second one we found; you do not need to find them in any particular order; however #101 cannot be found without clues from some of the earlier caches in the series).
After signing the log and replacing the cache, we then crossed the road and headed north on Montreat Road to a set of old tennis courts and a red building, where Dalmatian #51 was hiding nearby. Even though the online logs had several "did not find" entries, we had no trouble at all locating it after a brief search.
We then parked the car for a walk around part of the Montreat College campus on the hunt for Dalmatian #52. This cache was more of a challenge because there were so many people around. One "rule" of geocaching is to not let anyone know what you're doing (one reason being that geocaches often turn up missing, vandalized or stolen when they're discovered by non-geocachers). So here are Brigette and Nicole pretending to be visitors to the college while looking for the cache: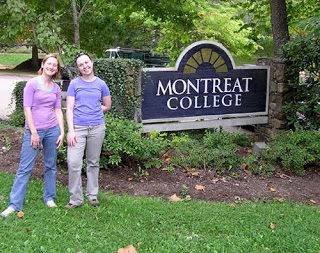 After signing the log for Dalmatian #52, we parked by Lake Susan near the Montreat Conference Center. Lake Susan is a picturesque lake complete with gazebo and elegant white swans swimming around. And a geocache called Dalmatians #63. Unfortunately, we came up empty-handed where the geocache was concerned, but we were very happy to have the opportunity to enjoy the scenery, which is a great aspect to geocaching: the searches bring you to some really beautiful places.

Travis searches around the gazebo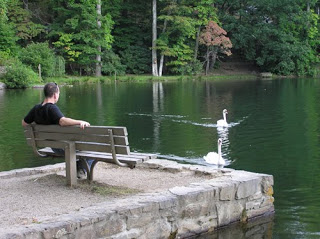 Dave gives everyone else a chance to find the geocache first
We hope to get back to Lake Susan in Montreat to see the leaves change since it's only 15-20 minutes from the Inn.
Interested in geocaching in our area? See more of our Western North Carolina geocaching adventures to read about some of the neat caches around the Inn on Mill Creek.