The majority of trees are still a Summery green this second week of Autumn at our elevation (2,300 feet) and location near Black Mountain, NC. On our drive around Asheville today, we noticed some trees are starting to lighten up a little, and there are a handful of colorful standouts scattered throughout Pisgah National Forest. We had quite a bit of rain last week, but sunny skies and cool, dry weather are in the forecast, which is typically good for bringing out fall leaf color in October.
Along with Mt. Mitchell, mentioned in our Week 1 Fall Color Report, a good leaf peeping destination in late September and early October is Grandfather Mountain, located near the Blue Ridge Parkway northeast of the Inn on Mill Creek. Grandfather Mountain's elevation is almost 6,000 feet above sea level, which provides for great viewing of the mountains as the leaves start to change on the Blue Ridge Parkway. At higher elevations along the Parkway, a nice color show is currently being provided by tulip poplars, which turn yellow, and by the brilliant red berries of the mountain ash tree: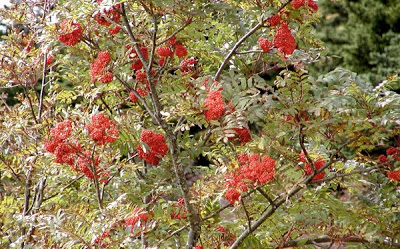 Mountain Ash berries at Grandfather Mountain
Other than having a great view of fall leaf color in early October, here are a few more reasons that Grandfather Mountain is a great place to go in the fall: It has a long history as a nature preserve and wildlife sanctuary, and is known as one of the world's most environmentally diverse nature preserves — home to 73 rare and endangered species. It also has seven enclosed environmental habitats that have been built around the actual native wildlife habitats, where people can see wildlife in a natural setting. Additionally, there are several hiking trails, made interesting by the fact that there is such a great amount of biological diversity. From Grandfather Mountain's website:
There are 16 different classifications of natural communities on Grandfather, which means that as you hike the backcountry trails you will remain constantly enchanted with the diversity of life around you. It would normally take several days of backpacking through another wilderness area to encounter as many distinct natural communities as you will see in a single day's hike on Grandfather.
Next week, we'll be discussing great spots for hiking as the fall color season gets underway in the North Carolina mountains…stay tuned!