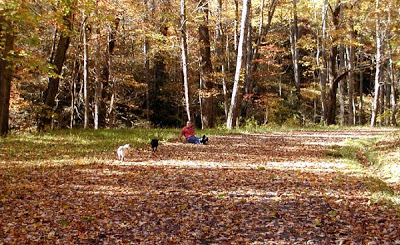 Your innkeepers and innpugs spent a late October afternoon soaking in the remaining fall foliage on Point Lookout Trail, a 3.5-mile greenway biking/walking trail that opened to the public in October of 2008. (Pictured above is Dave relaxing on our favorite part of the trail while Csaba and Bugsy frolic — yes, our lazy Csaba frolics!)
One end of Point Lookout Trail, which used to be old Highway 70, is near the towns of Ridgecrest and Black Mountain, where you start on our road through Pisgah National Forest. The other end is in Old Fort, just down the road from the Allison Miniature Horse Farm, the Old Fort Picnic Grounds and a picturesque little church.

The Allison farm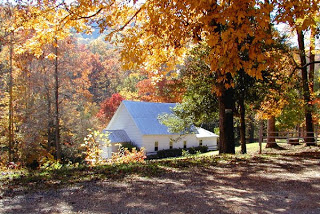 One of the prettiest little churches we've seen
We started at the end closest to the little church and headed up about a mile. Three nice aspects of Point Lookout Trail: it's paved so it's a great trail in both rainy and sunny weather (we had sunshine that day), it meanders through a beautiful forest and along Swannanoa Creek and at times feels truly magical in terms of scenery, and finally, the trail isn't heavily trafficked on a regular basis, so you can be out for an hour or two, like we were, and see one, maybe two people (maybe none!) and perhaps a couple of innpugs.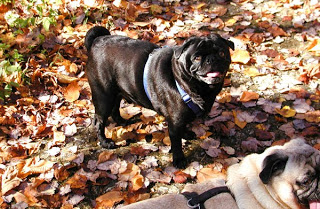 Below we share some photos of Fall's finale during our late Autumn afternoon on Point Lookout Trail. Enjoy!