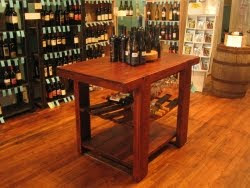 The Merry Wine Market in Black Mountain
When cool fall weather arrives, a nice glass of wine can help warm your spirits. That's why we think it's fantastic that the Merry Wine Market in downtown Black Mountain (about 10 minutes from the Inn on Mill Creek), holds casual and complimentary wine tastings every Saturday from 5pm to 7pm at this time of year.
What we like about the Merry Wine Market is that the owners and their staff are incredibly knowledegable about wine and incredibly friendly when they share that knowledge with you. They represent the quintessential Black Mountain genuine hospitality and helpfulness that we love.
For its pre-Thanksgiving tasting, the Merry Wine Market has picked some wines that can be paired with a holiday feast. They'll have an Italian Prosecco, a German Riesling, a Spanish Tempranillo and a new California Merlot. Plus, they tell us they'll finish with a "surprise blend that is perfect for setting the mood for the holiday." Can't wait!