Great news from our friends at
Chimney Rock Park
: the scheduled improvements on the elevator to the Chimney are complete and the elevator has reopened to the public. The Chimney is a 315-foot monolith and the focal point of the park. From the parking lot, you can take the elevator up 26 stories, and then it's a short walk and 44 stairs to the top of the rock, where you can see up to 75 miles. Lake Lure and Hickory Nut Gorge are really beautiful from the Chimney. Here's a great photo from Chimney Rock Park's website of the views: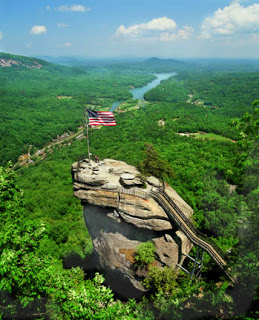 If you're the adventurous sort, you can still take the Outcroppings Trail, a set of stairs and paths up to the Chimney. There are some great views from the Outcroppings. This is also the trail to take to the Chimney if you have pets. Chimney Rock is pet friendly and dogs are permitted in all the outdoor areas, including all the trails, on leash.
For more information about Chimney Rock Park, visit
www.chimneyrockpark.com
. And remember: we have discount coupons at the Inn on Mill Creek for our guests who are planning to spend time at Chimney Rock so be sure to pick up a coupon when you stay with us.