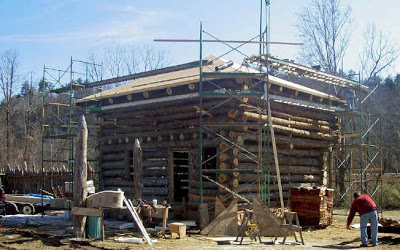 As many of you know, Old Fort residents and volunteers have been busy reconstructing Davidson's Fort, the Revolutionary War fort that gives the town of Old Fort its name. Once it's finished, it will be the site of reenactments, educational activities for visitors, historical interpretations, and more.
Work on the fort was a bit delayed due to the wintry weather we experienced in our area of Western North Carolina during January and the first part of February; however, good progress has been made over the past few weeks, as the temperatures warm up and Spring inches closer.
We received the latest progress report from Davidson's Fort, and are happy to share that the roof of the blockhouse (pictured above) is currently being installed with the help of Bill Gilham of Bg Framing & Timberworks in Swannanoa, along with donations from individuals and organizations. The workers are doing a tremendous job to ensure that the roof is well insulated, waterproof, and built to last. Here they are installing the shakes (wooden shingles made from split logs):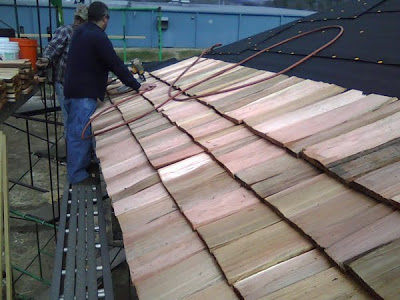 To learn more about Davidson's Fort and the reconstruction efforts or to make a donation toward the building of the fort, visit https://davidsonsforthistoricpark.com/.