As we watch the snow melt, we've been going through our photos, comparing last year's weather to this year… big difference! While waxing nostalgic about how last February, our crocuses had begun to bloom by the middle of the month compared to this February, when our White Garden is literally white — covered in a blanket of pristine white snow — we realized that it's very easy to take pretty pictures here in the mountains of Western North Carolina; no matter what time of year it is, the scenery just makes you smile.
What we like to do is take photos of particular places at different times of the year and compare them. For example, here is a photo of the view from our Lake View Room, taken just today after a brief snowfall this morning. It was a good thing we got this photo when we did, because the snow melted off the trees about an hour later: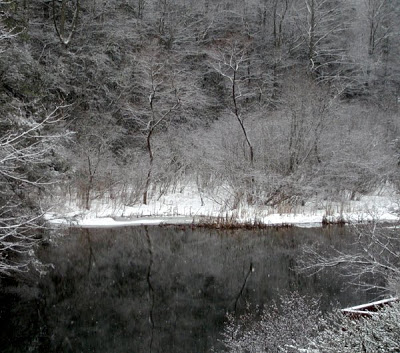 Here is a photo of the same view in mid-October:
Sometimes, we don't have to wait months for the stark contrast to be seen. Next up is a photo of of the view when you're traveling to the Inn on Mill Creek from Black Mountain, about a mile from where our road begins. It's called Royal Gorge. This photo was taken February 7, of this year:
And here is a photo taken of the same spot today, just eight days later: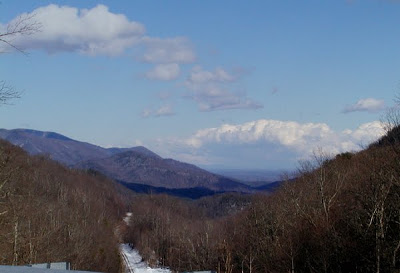 We like to say the mountains have their own personality in every season. We love capturing that personality. Be sure to bring your camera when you come to our neck of the woods.