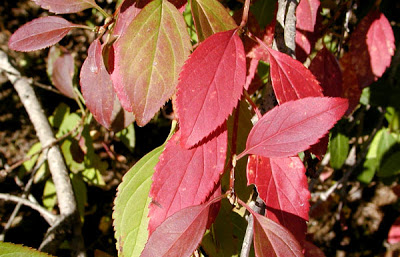 Forsythia leaves
Fall has reached us, finally! Hope you had a good summer. It was a fairly hot summer this year in the North Carolina mountains, with several areas seeing record temperatures. (
Grandfather Mountain
tied a previous all-time high record of 83 degrees to give you perspective.) In our neck of the woods, we saw a few days in the 90s, and it was fairly humid, too, so we were ready for Autumn to arrive…and arrive it did.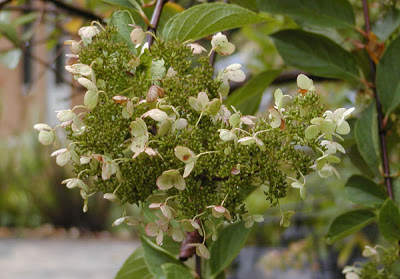 Our hydrangeas showing off their fall appearance
Week one of Fall brought cool nights and tiny bits of fall color popping up here and there. The tulip poplars — which did not have a great fall last year — seem to be the first to start changing again, and they're a little more golden than brown this year. Those trees have provided some of our brightest colors in early fall since we've been at the Inn, so we're crossing our fingers and hoping they deliver some nice fall foliage this year.
Our butternut trees (also known as "white walnut") along the Inn's driveway are also some of our earliest changers and we notice them lightening up and turning more yellow as September comes to a close, about a week ahead of last year's schedule.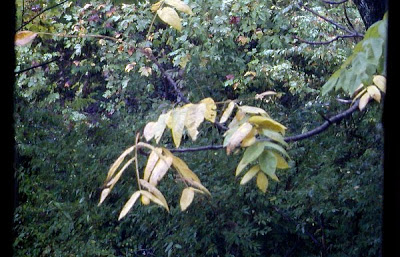 One of the butternut trees, seen through the Great Room window

Week two
has begun with a few of our sourwood trees showing off their brilliant red fall foliage: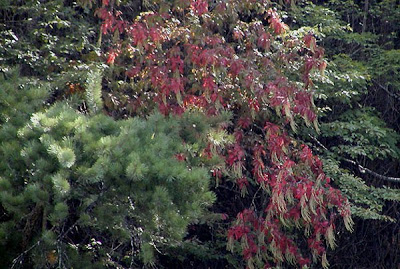 Also, the tulip poplars keep changing, and other trees, such as birch and maples, have just a hint of leaf color variation. For the most part, though, trees are still lush and green at our elevation, 2,300 feet above sea level. Here's part of Bernard Ridge at the Inn: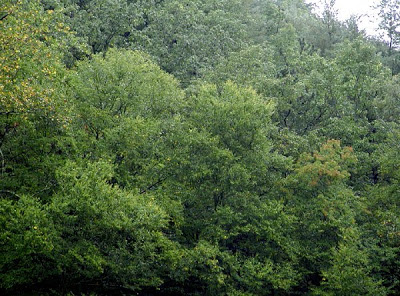 We have no idea what to expect in 2010 in terms of how quickly the leaves will change and how brilliant the fall foliage in the North Carolina mountains will be because the weather has been so unique this year, but with hundreds of thousands of acres of National Forest surrounding us and the Black Mountain/Asheville area at varying elevations, we remain optimistic for a good color show.
If you'll be visiting our area in late September and early October, the higher elevations of the Blue Ridge Parkway (5,000-6,000+ feet) are your best bet to catch early color. The views along the Parkway are lovely this time of year, especially near high spots like
Mt. Mitchell State Park
and
Grandfather Mountain
.