As we celebrate the first day of Winter, we (meaning Brigette) also celebrate the fact that the first of our garden catalogs have arrived. Gold stars go to Bluestone Perennials in Ohio, and Witherspoon Roses in Durham, NC, for being early birds in the garden catalog distribution department! What better way to get through winter than to flip through a garden catalog, with it's colorful plants and flowers splashed on every page?
We've got a few garden spaces at the Inn and in 2011, we'll be working on enhancing two of them — the Front Porch Garden and the Well Garden.
Near the base of the stone stairs leading to the Main House's original front porch is the Front Porch Garden. For the past three years, it has been the home of several hostas, a few daylilies, and our baby trees from the Arbor Day Foundation (mostly flowering trees like Dogwood and Washington Hawthorne). The trees will be ready to graduate to their permanent homes this Spring, so we'll be converting the nursery to a flower garden. Our current thought is to use deep purple, burgundy, crimson and rust-colored tones.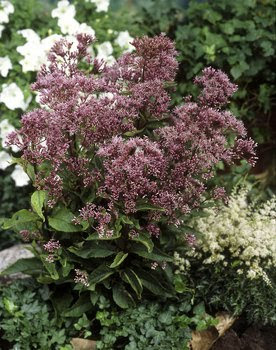 Joe Pye Weed coming to the Front Porch Garden in 2011
The Well Garden is a very small circular garden that was once the well for the property. This garden is one that we experimented with our first year, with a spiral pattern of lavender, agastache (hyssop), and pink coneflowers. This year, we may move the lavender and agastache but keep our spiral and enhance this sunny little garden with different colors of coneflowers, along with some evergreens…we're still deciding.
Stay tuned, and let us know if you have any thoughts about flowers to add to the Inn in 2011!