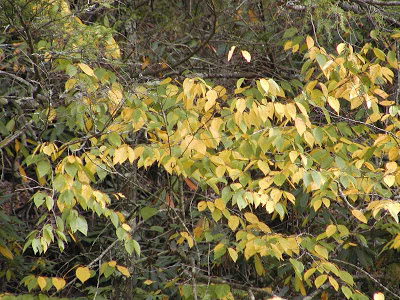 Our 2011 leaf reports for our neck of the woods in the western North Carolina mountains have begun! Hope you're all enjoying autumn so far. We've had some rain for the past few days, but today was sunny and beautiful and we hope for more of that Carolina blue sky as fall really gets underway over the next several weeks.
This year's fall season is brand spanking new, which means the color has only just started at our elevation (2,300 feet above sea level). We've noticed that many of the trees are starting to lighten up, which means color is on its way. But truly, this is the time in the season when a single tree will decide that it's time to show off its scarlet or golden tones while all the other trees around it are still green. For example, here's a sourwood tree that is always one of the first trees to change at the Inn: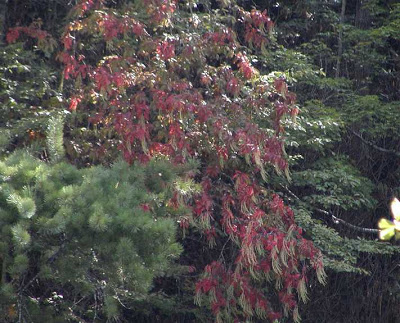 Trees to look out for this week and next week include the "early changers" such as sourwoods, dogwoods and tulip poplars. Here at the Inn on Mill Creek Bed & Breakfast near Black Mountain and Asheville, we count our butternut trees as early changers as well: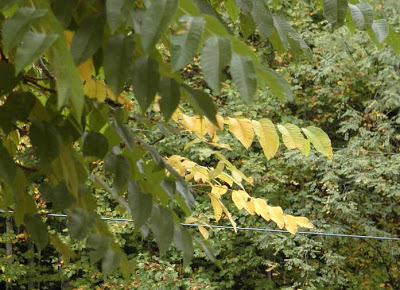 We're also starting to see a lot of the birch and beech trees starting to rapidly turn yellow, which is a little early compared to years' past. It's nice to see their sunny tones this time of year!
Unfortunately, the tulip poplars are having another tough autumn, likely related to drought conditions according to some experts. The leaves are browning quickly, so they get a pass and we'll hope to see their bright and brilliant yellows next year.
The best places to spot the beginnings of the fall color show are along the higher elevations on the Blue Ridge Parkway. We recommend heading north on the Parkway and visiting the highest peak in the eastern United States, Mt. Mitchell, which at almost 6,700 feet, has evergreen trees, but provides a vantage point for looking at the beautiful peaks around it that might be starting to change. Also, Grandfather Mountain, popular with our hiking and birding guests, is reporting the mountain ash berries are a sight to see.
Have a great rest of the week and we'll see you next Tuesday here at the blog for week 2!