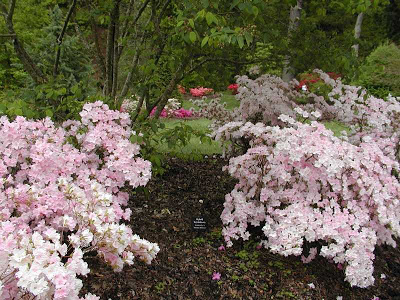 Azaleas at Biltmore bloom in late April / early May
Azaleas. Do you like them? If so, then you should check out the thousands of amazing azaleas at Biltmore Estate in nearby Asheville, NC, during late April / early May. They have an entire garden — at 15 acres, it's more like a park — dedicated to this lovely spring-blooming shrub.
And that's not all. This year, Biltmore has renamed its celebration of Spring (formerly Festival of Flowers) to Biltmore Blooms, which is quite fitting as there are spring flowers around every turn. Quite inspirational for the gardeners among us. The progression of blooms starts with a beautiful orchid display inside, in the Winter Garden room in Biltmore House, through April 14. For the first time, visitors are able to walk down the steps into the area rather than walking around the roped off area. Plus, if you're here on a cool March or April day, you can always find blooms of all kinds — hydrangeas, jonquils, and more — inside the Conservatory near the Walled Garden.
Outside, forsythia, tulips and flowering trees such as dogwoods and magnolias, will be the stars of the show in early to mid-April, followed by the azaleas we mentioned above, which peak sometime between late April and early May. Then, snapdragons, poppies, roses and other perennials join the celebration in May.
Speaking of the outdoors at Biltmore, the estate grounds are pet friendly, so our innpugs, Csaba and Bugsy, would like to take a moment to give their expert recommendations: sitting on the grass above the Ramp Douce (which offers a nice view of Biltmore House and the front lawn), walking around the Bass Pond, and checking out the roses.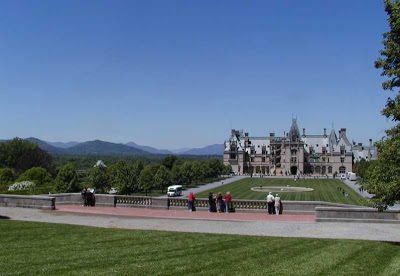 The grassy area above the Ramp Douce…perfect views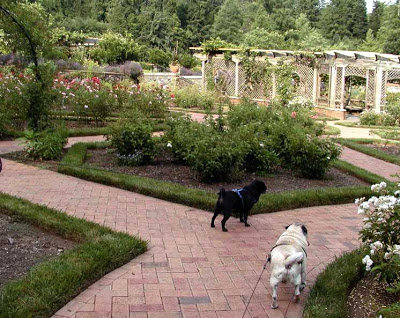 Csaba and Bugsy say "Be sure to stop and smell the roses!"
Enjoy discounted Biltmore tickets this spring and all year long in 2013 as our guest at the Inn on Mill Creek, located 20 minutes east of the entrance to Biltmore. Your tickets can be used any day, plus the following day is FREE. And as Biltmore "regulars", we can help you plan your itinerary as well, including Biltmore Estate restaurant recommendations, which part of the estate to visit first, and the best spots for fabulous photos like the ones we took below during previous springtime celebrations at Biltmore: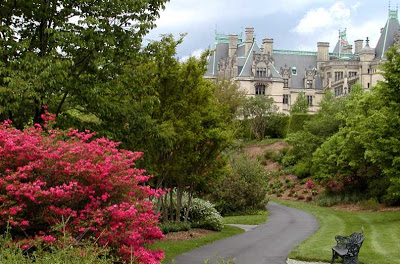 The Shrub Garden leading toward Biltmore House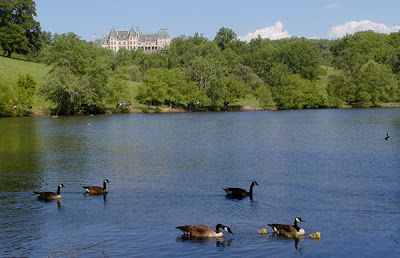 Ask us about this little spot, good for photos and a picnic lunch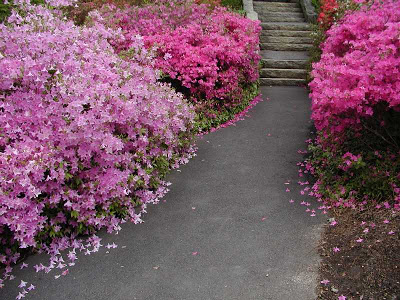 We weren't kidding about the azaleas…they're amazing
Biltmore Blooms runs through May 31.