Every once in a while, we get in the zone with baking and make a lot of one kind of thing. Lately, we've been on a muffin kick, and now it's cookies. We've landed on a pretty awesome chewy chocolate chip cookie recipe, which is a variation of one from Pillsbury. Not a bad idea to double this recipe, because these go fast!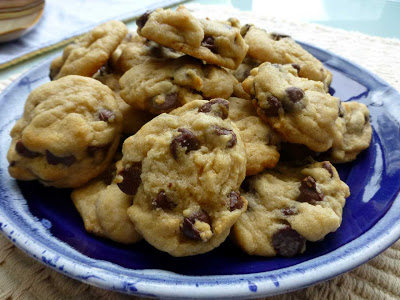 Chewy Chocolate Chip Cookies
from the Inn on Mill Creek Bed & Breakfast
Prep+bake time: 45 minutes (includes refrigerating dough and cooling after baking) / Makes 3 dozen
Preheat oven to 375.
Ingredients
1/2 cup sugar
3/4 cup brown sugar
3/4 cups (12 tablespoons or 1 1/2 sticks) butter
2 eggs
1 teaspoon vanilla
1 teaspoon baking soda
1/4 teaspoon salt
2 1/8 cups all-purpose flour
1 bag (12 oz) of milk chocolate chips
Directions
1. Beat sugar, brown sugar and butter in an electric mixer until well blended.
2. Add eggs and vanilla and mix well.
3. In a separate bowl, sift together baking soda, salt and flour.
4. Add flour mix to sugar/butter/egg mix and mix well.
5. Add chocolate chips (we use a wooden spoon for this rather than the electric mixer)
6. Refrigerate for 15 minutes.
7. Drop dough onto cookie sheets, rounded by the tablespoon.
8. Bake for 10 minutes. If they turn a light golden brown, they're perfect.
9. Cool for 10 minutes (if they last on the racks that long!)