Apple season has begun in the mountains of Western North Carolina! We have our own little private orchard here at the Inn on Mill Creek Bed & Breakfast and we knew when the awesome-smelling apple blossoms came out at the end of April and looked this beautiful, that we were going to get a decent crop: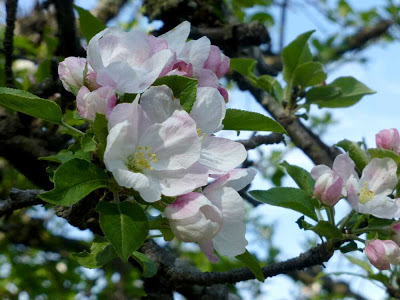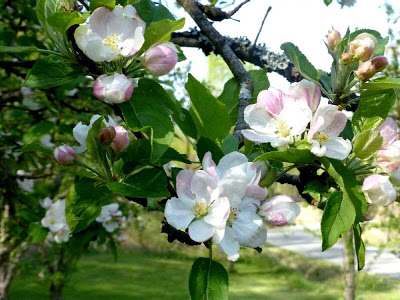 So we've been busy picking apples, and you can guess what fabulous fruit will be served to our guests as part of breakfast and in our baked goods the next several weeks!
Speaking of baked deliciousness, this weekend, Innkeeper Brigette pulled out a favorite brownie recipe, tweaked from one by Southern Living, and it was as good as we remembered. One of the nice things about this recipe is that you don't need an electric mixer. A large mixing bowl and wooden spoon (plus a medium mixing bowl to put your dry ingredients together first and a 13×9 inch pan to bake your brownies) are all you need. Enjoy!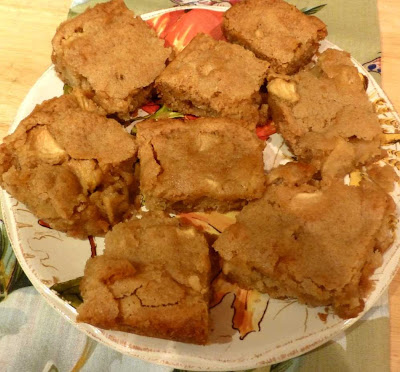 Apple Butterscotch Brownies
from the Inn on Mill Creek Bed & Breakfast
Prep+bake time: 60 minutes / Makes 15 brownies
Preheat oven to 350.
Ingredients
2 cups peeled and diced apples (original recipe calls for Granny Smith, but we use McIntosh apples from our orchard – any baking apple will work just fine)
2 cups brown sugar
1 cup (2 sticks) butter, melted
2 eggs, lightly beaten
2 teaspoons vanilla extract
2 1/4 cups all-purpose flour
2 teaspoons baking powder
1/4 teaspoon salt
Directions
1. Stir together brown sugar, melted butter, eggs and vanilla extract.
2. Sift together flour, baking powder and salt and add to brown sugar mixture.
3. Stir in apples.
4. Pour mixture into greased (we use baking spray) 13×9 inch pan and spread evenly.
5. Bake for 35-45 minutes, until toothpick inserted into center comes out clean.
6. Cool and cut, unless you are tempted to eat them warm!