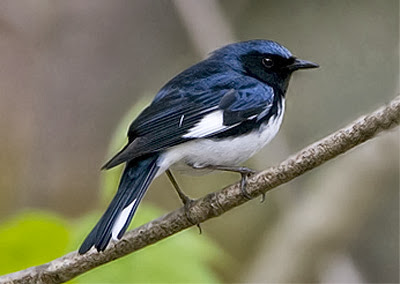 Black-throated Blue Warbler [Photo Credit: Joe Kegley]
Heading through our "neighborhood" of Pisgah National Forest in the North Carolina mountains on its way to its winter abode in the Caribbean, the Black-throated Blue Warbler is a fairly common visitor to the Inn on Mill Creek B&B in the early fall. Thus, this beautiful songbird earns the September spot in our 2013 Birding at the Inn series on the blog.
A fairly easy bird to identify, the male Black-throated Blue Warbler is a dark blue bird with, you guessed it, a black throat. It also has a black face, a white belly and a white spot on its wing. Its outer tail feathers have white spots with black tips. The female looks completely different except for the white spot on her wing. Her head, back, wings and tail are olive green and she has a pale yellowish, white belly and a pale eye stripe.
The Black-throated Blue Warbler migrates through the mountains of western North Carolina both in spring and fall. In the springtime, the warbler heads north for summer breeding in the northeastern U.S. and southeastern Canada. Then it's back to the warm climate and dense tropical forests of the Caribbean for the winter.
An insect-lover, the Black-throated Blue Warbler will look for its dinner on the undersides of leaves and it's not uncommon to see them on the lower branches of trees or in tall shrubs at the Inn on Mill Creek. And unfortunately, one of the warblers will invariably fly into the solarium glass each year, not realizing that the reflection of Pisgah National Forest in the window is just that, a reflection. This is exactly how we were introduced to the Black-throated Blue Warbler a few years ago. We moved the stunned little fellow off the patio outside the solarium and placed him in the grass at the edge of the burning bush hedgerow and trees nearby.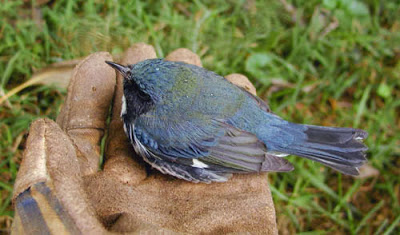 Getting a little helping hand back to the tree line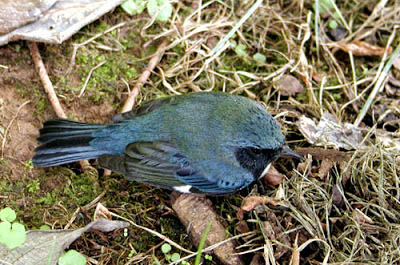 A moment of pause before flying away
After a few minutes, he flew up onto a low branch, sat for a minute and then flew away. We always love a happy ending, so we like to think he ended up safe in his forested home somewhere in the sunny Caribbean that winter.