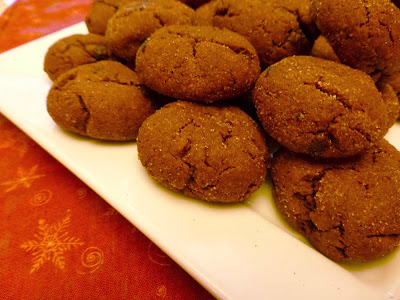 Cherry Chocolate Snickerdoodles from the Inn on Mill Creek B&B
We had a lot of fun being part of the Visions of Sugar Plums Christmas Cookie Tour for the third year in a row. The Christmas Cookie tour is a public tour of B&Bs and Inns in and around Black Mountain, NC, and funds raised from ticket sales are donated to charity. As is our tradition, we chose a chocolate-based cookie for the Inn on Mill Creek's 2013 cookie. Enjoy!
Cherry Chocolate Snickerdoodles
from the Inn on Mill Creek Bed & Breakfast
Prep+bake time: 1.5 hours (including dough chilling time) /
Makes 3-4 dozen depending on the size of your 'doodles
Preheat oven to 400.
Ingredients
2 1/4 cups flour
1/2 cup cocoa powder
1 teaspoon cream of tartar
1/2 teaspoon baking soda
1/4 teaspoon salt
1 cup butter, room temperature
1 cup (2 sticks) sugar
2 eggs
1 teaspoon vanilla
Cinnamon/sugar mix in a small bowl (3 teaspoons sugar to 1 teaspoon cinnamon)
1 cup (5 oz.) dried cherries, coarsely chopped
Directions
1. Sift together flour, cocoa powder, cream of tartar, baking soda and salt in a medium bowl.
2. Cream together butter and sugar with an electric mixer until light and fluffy. Add eggs, one at a time, then vanilla, and mix well.
3. Add flour mixture to butter mixture and mix until ingredients are combined.
4. Stir in chopped cherries.
5. Refrigerate dough for 30 minutes (makes it easier to work with).
6. Roll dough into balls with your hands, then roll the balls in the cinnamon/sugar mix to coat them.
7. Drop the snickerdoodle balls onto baking sheets and press with bottom of a glass or a spoon to flatten slightly.
8. Bake 12-15 minutes, then cool on rack. Overbaking will make them pretty crispy.