The Inn on Mill Creek Bed & Breakfast has
a small herb garden within the Pool Garden (our garden that used to be a
swimming pool way back when). At our elevation in the North Carolin mountains, 2,300 feet above sea level in Zone 7b, some herbs overwinter just fine, while others are basically annuals. This means our herb garden has changed its look practically every year. But over the course of six years, one thing has remained certain: the Herb Garden has slowly become nondescript and has lost its identity, blending in with the rest of the Pool Garden over time.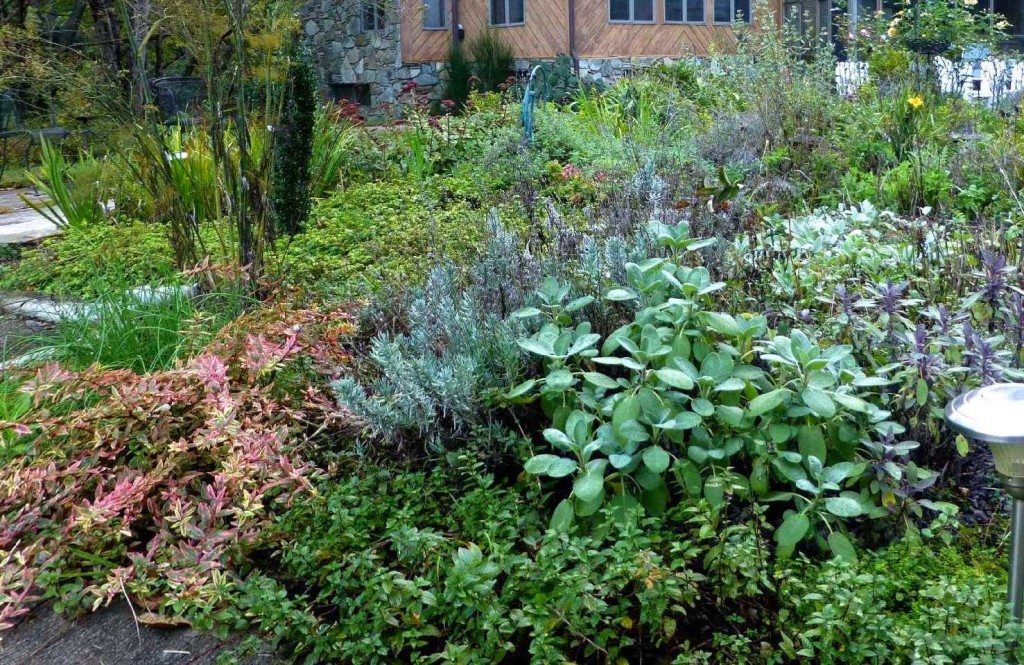 Herb Garden in fall – St. John's Wort, Mint and Sage competing for space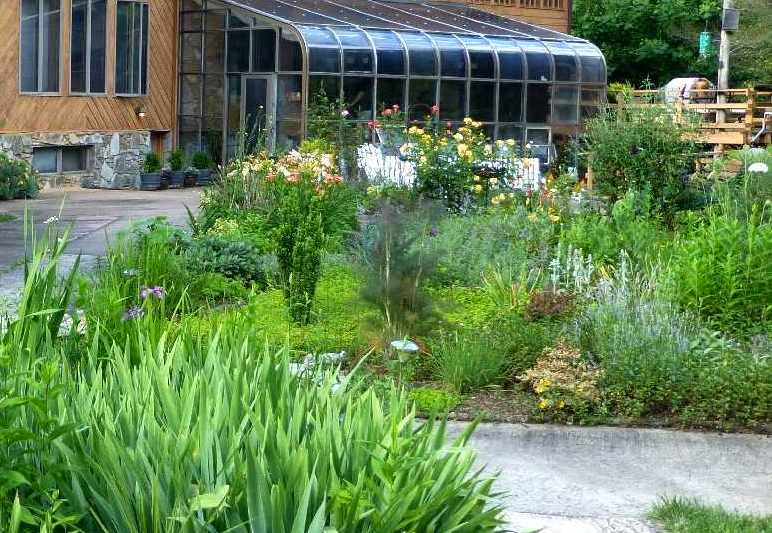 Herb Garden, center right, blending a little too well into the garden
When we decided that one focus of our 2014
projects was going to be garden enhancements at the Inn, the Herb Garden was a
natural contender for the number one spot on the "improve me" list. We give the
extremely well thriving Chocolate Mint all the credit. The awesome smelling (yes,
just like chocolate chip mint!) herb had basically taken over the entire herb
garden – yes, we now know mint likes to grow, and grow, and grow – so we deemed it time to tame that plant and to tidy up the garden.
One trip to the social media
wonder that is Pinterest was all it took to gather up some inspiration. Herb
garden photos…check. Potted herbs…check. Potted herbs sunk into the herb garden…oh,
now there's an idea…
We set to work in early April, knowing
that herb season – and the Painters Greenhouse Herb Festival – was just around
the corner. The entire Herb Garden was dug out.
Some perennial herbs were saved
(St. John's Wort, Thyme and Purple Sage made the cut), while others were taken
to a more manageable size (Chocolate Mint, we're looking at you). Pots were
procured in two different shapes and three different sizes for variety and the plan took shape
on paper.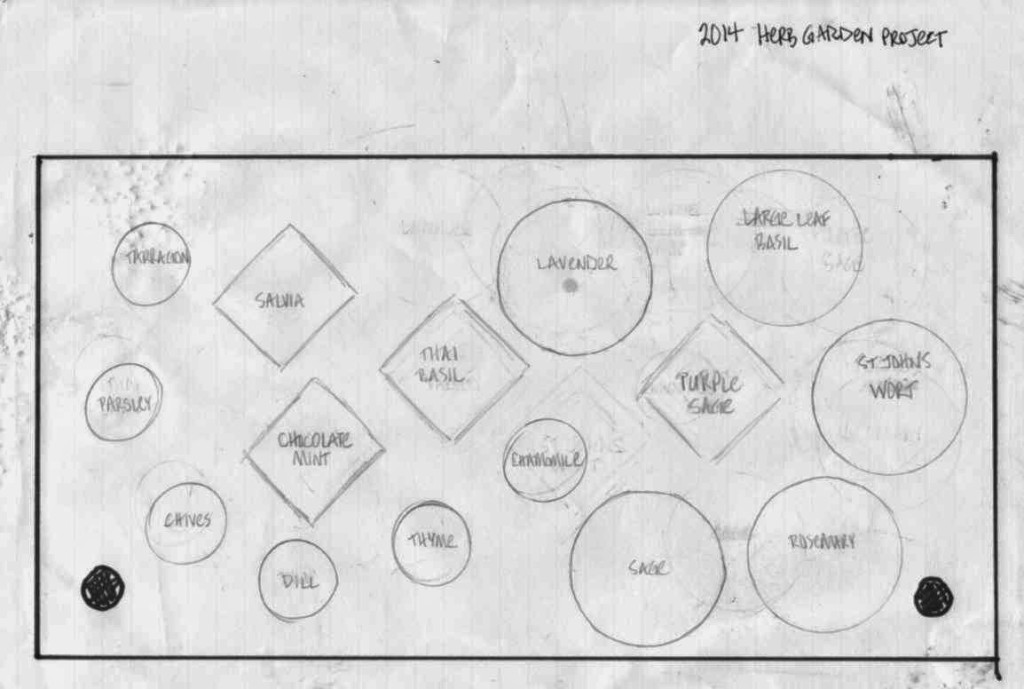 What Innkeeper Brigette does in her spare time in March and April
We made it to the Painters
Greenhouse Herb Festival in Old Fort and picked up quite a few plants for the herb garden:
Rosemary, Sage, Lavender, Chives, Thai Basil, Large Leaf Basil, Dill, Chamomile
and Parsley. We planted them all in pots, placed the pots in the garden and
filled around them with dirt. A few bags of
large pine bark mulch and voila, potted herb garden!
A couple of herbs were ordered
online, Salvia and Tarragon, so two of our pots remained empty at the beginning
of May.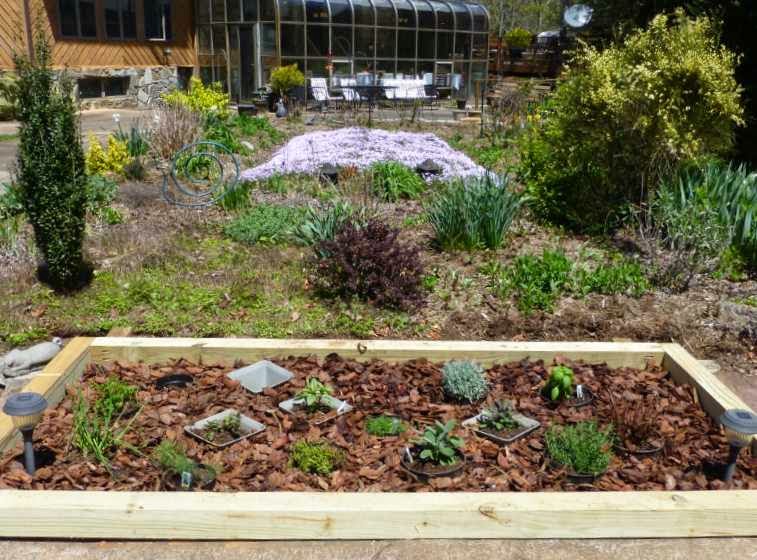 Herb Garden Project 2014 at the Inn on Mill Creek B&B…pretty much done!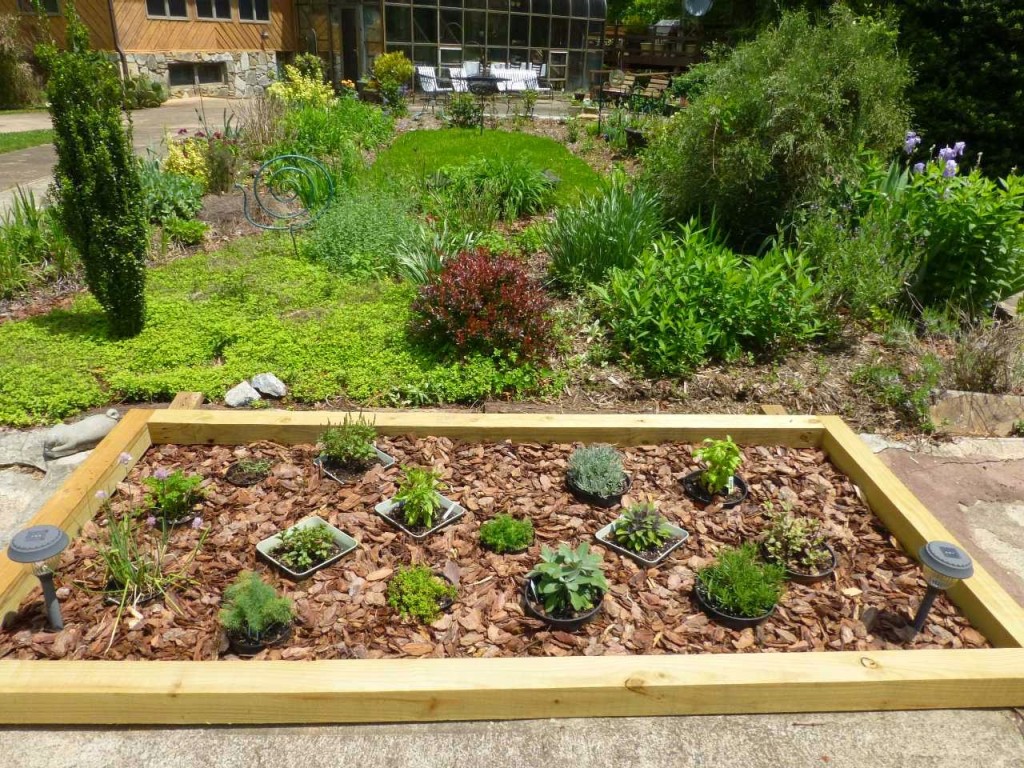 All plants in and happy, even the Chocolate Mint
Now that our herb garden has had
a couple of months to grow, we are figuring out what works best in terms of
watering (every other day seems to do the trick), what is struggling and why
(the poor Salvia can't catch a break from insects), and we actually pay
attention to the growth habits of each herb – something we didn't do when they
were all competing for space and growing together amidst a sea of Chocolate
Mint. We still love the Chocolate Mint, we do, it's just that we love it much
more in a container.