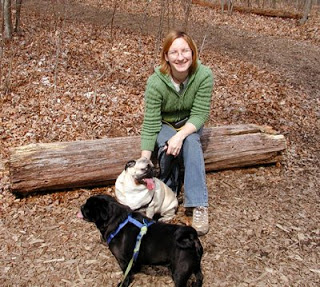 We spent March 19, the last day of Winter, at one of our favorite spots: the North Carolina Arboretum. We were joined by Csaba Pugga and Bugsy Pug, our innpugs, with the goal of making the most of the beautiful weather with an outdoor walk.
Csaba and Bugsy enjoyed themselves as always, mostly due to the fact that the other visitors to the Arboretum cooed over them and told them how cute they were. We met a wonderful little girl who was at the Arboretum with her mom, and we learned that they had two cats who had similar personalities as the innpugs (outgoing like Csaba and shy like Bugsy). Csaba would have liked for the little girl to accompany us the whole time because she gave him lots of good pats on his back.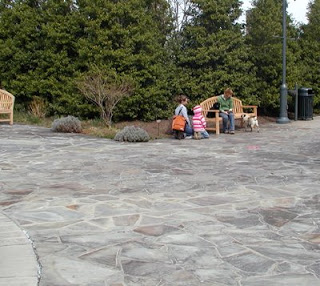 Csaba plays hard to get with his new friends
Once Csaba and Bugsy were done with their socializing, we set out on the Natural Garden Trail, one of the many dog friendly trails that meander through the Arboretum's grounds.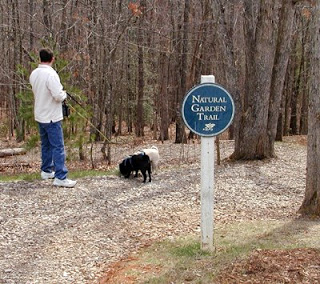 Ready, set, sniff…innpugs' idea of a "walk"
The Natural Garden Trail is almost a mile long. We started from the Education Center and walked past the Stream Garden, Quilt Garden and Heritage Garden (all still waking up to Spring) to the start of the trail. From here the trail looped southwest through forested areas overlooking Bent Creek and then headed back up, past blooming Winter Jasmine, to the Education Center.
We appreciated the many placards describing the different tree types along the trail. We also saw cool benches made of stone like this one: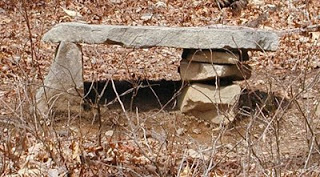 The Arboretum always gives us such great inspiration for our Inn.