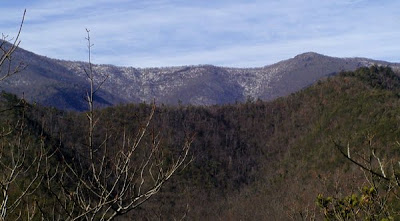 View of snowy peaks from Heartbreak Ridge
Two of our guests-turned-friends, Travis and Nicole, were at the Inn this chilly January week and we took an afternoon to hike up together to Heartbreak Ridge in Old Fort. The trailhead for Heartbreak Ridge Trail begins about two miles northeast of the Inn on Mill Creek.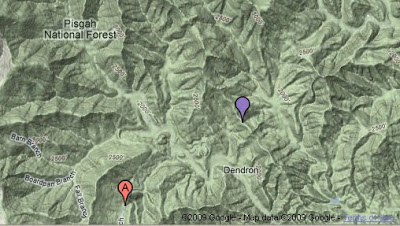 Red "A" is the Inn on Mill Creek; Purple marker is Heartbreak Ridge
The north end of the ridge leads up several miles to the Blue Ridge Parkway and is part of the Off Road Assault on Mt. Mitchell mountain biking race each July. The racers have serious endurance. Our innpugs, Csaba and Bugsy, have pug levels of endurance, so we made a simple two-mile roundtrip trek up to the ridge and back.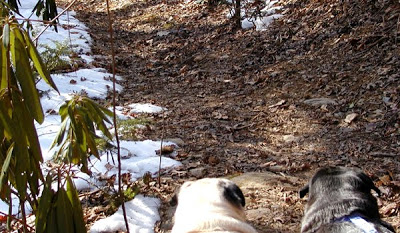 Two pugs lead the way (for about five seconds until they stop to sniff)
What a great winter hike, even with snow on the ground! The first part of the trail is relatively flat and curves through a valley and across a small stream, which appears to be part of Pritchard Creek The trail then veers to the right (just watch for the yellow blaze marks on the trees like in the photo below) and turns into a switchback trail up the west side of Heartbreak Ridge.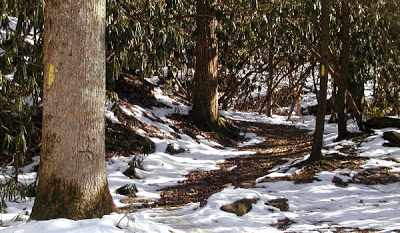 The start of the more strenuous section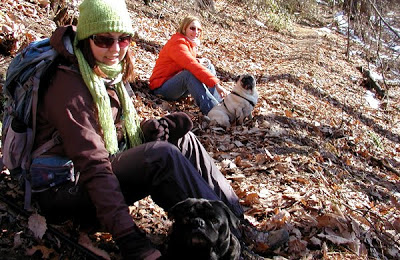 Nicole, Brigette and the innpugs take a break on Heartbreak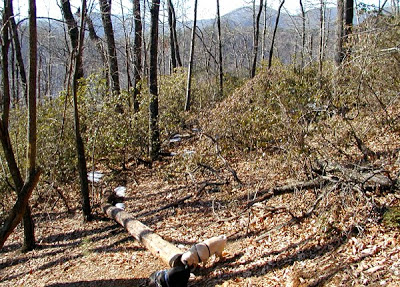 The view on the way down (and pugs stopping to sniff sniff sniff)
This portion of the Heartbreak Ridge Trail will definitely be going on our list of wintertime hikes. A few tips for hiking at this time of year in our area of Western North Carolina and the Black Mountains:
Bring a map or GPS unit (and it doesn't hurt to bring your cell phone, even with spotty reception in the mountains), and tell someone ahead of time where you're going
Check the weather before you hike and be aware that elevation changes may mean serious variations in temperature, wind chill and weather conditions; this is a year-round factor to consider when hiking in the Black Mountains
Keep in mind that winter days are shorter, especially in the mountains when the sun sets quickly over the ridges
Dress in layers (preferably not cotton; when it gets wet, it takes forever to dry) and wear a hat
Bring sunglasses to protect your eyes from the Carolina blue sunny winter skies
Wear your insulated, waterproof hiking boots
Don't forget food and water; you burn lots of calories on winter hikes
Enjoy those unobstructed views! Don't forget your camera.