Early October is when we start to see colorful "pops" peeking through all the green in Pisgah National Forest and the area around Asheville, NC. Ready to find out where to hunt for bright fall foliage? It's time for our second week of fall color reports for the NC mountains near Asheville and Black Mountain!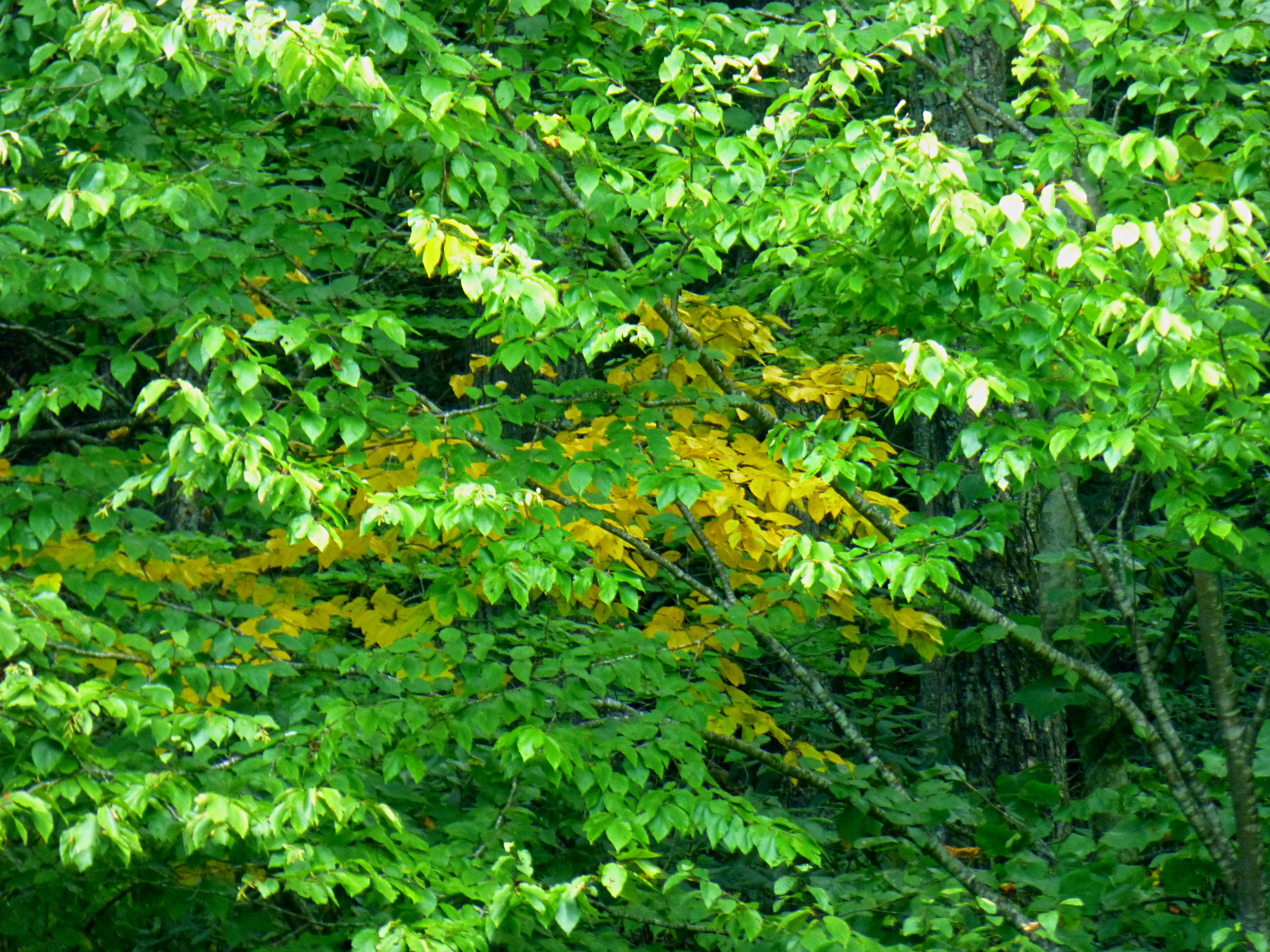 At our elevation of 2,300 feet inside Pisgah National Forest, the early changers are progressing, especially the sourwood (scarlet red) and birch trees (golden yellow) along with the dogwoods (different shades of red). Some of the tulip poplars are also showing tinges of dark yellow and we see a colorful leaf or two on the maple trees. We still have beautiful wildflowers, including wild asters and goldenrod, and our burning bushes are definitely living up their name, aflame in shades of bright red.
The landscape is still mostly green around Asheville, so your best option for viewing early fall color between October 4 and October 11 are the higher elevations, especially along the Blue Ridge Parkway.
This year, our fall color reports feature three categories for suggested hikes/nature walks:
Fall Color Waterfall
Walk in the Woods
To a View
Here are this week's recommendations:
Fall Color Waterfall: Some areas see fall color much earlier than others in the mountains, and one of those early places is Graveyard Fields, southwest of Asheville. Located off the Blue Ridge Parkway at Milepost 418.8, Graveyard Fields is in a valley above 5,000 feet in elevation, and it is chock full of shrubs and wild blueberry bushes that turn a brilliant shade of flaming red. And along with interesting fall color and an even more interesting name, Graveyard Fields has not one, but TWO waterfalls. Our friends at RomanticAsheville.com have a fabulous write-up on Graveyard Fields. We also did a blog post earlier this year detailing the hike through the valley between the waterfalls. Fair warning, a lot of people head to Graveyard Fields in early fall, so prepare for crowds if you go during the day on a weekend. However, many visitors do not hike all the way to the upper falls, choosing to remain near the lower falls.
Walk in the Woods: For our woodsy stroll this week, we suggest Craggy Gardens and the Craggy Pinnacle Trail. This 1.5-mile moderately-strenuous trail off the Blue Ridge Parkway north of Asheville (Milepost 364.4) leads up in elevation through a wooded landscape containing different tree species, especially birch, which tend to change early, and rhododendron tunnels. The trail then passes a bald and ends with a bonus — a nearly 360-degree view at the top of Craggy Pinnacle. In early October, watch for fall color just starting to dot the landscape around Craggy Pinnacle, accented by the gorgeous red berries of mountain ash trees.
To a View: Staying above 5,000 feet in elevation will bring more opportunity for fall color, and this week, we recommend the same area as last week — Mt. Mitchell State Park, where some of the highest peaks in the eastern United States are located. The hike for this week is the Old Mitchell Hiking Trail at Mt. Mitchell State Park, a 4-mile trail that begins at the Park Office below the summit of Mt. Mitchell. There will be views along the way, leading to the top where you have a 360-degree expansive view of the Black Mountains and Blue Ridge Mountains, which will be starting to show color in early October.