The Inn on Mill Creek Bed & Breakfast has a new outdoor sculpture to greet guests when they arrive… beautiful stained glass! A Black Mountain artist, Barbara Brinson, created the one-of-a-kind piece for us, called Sunrise in Pisgah, and we installed it in the garden area along the driveway. We're so excited to share it with everyone!
Ever since we started adding outdoor artwork years ago, we have thought about including stained glass, to add a little year-round pop of color to our garden spaces. We were fortunate to have met a very talented stained glass artist, Barbara Brinson. Barbara was actually a guest of ours, staying at the Inn on Mill Creek B&B while looking for a home in the Black Mountain area. Now we call her our neighbor and friend! We collaborated with Barbara on the design, wanting a vertical piece that Innkeeper Dave could incorporate into a wooden frame made of split-rail fence posts. Something abstract but giving the feel of a sunrise, using bold colors. We were not disappointed!
Once the piece was finished, it was time to insert it into the frame. Dave chose two split-rail fence posts because we wanted something that looked rustic and would weather over time and the fence posts essentially already had pre-cut "pilot holes" for a chainsaw to cut through in order to enlarge the frame to fit the glass. He cut the posts and attached them together to create the frame, and then fashioned a track out of thin pieces of wood so that the stained glass had sturdy framing around it… a sort of frame within a frame. To be able to handcraft the frame also gave Dave, an engineer, reason to hang out in his man cave, or Dave Cave (also known as the garage), which is his haven for building things.
We chose a prominent spot along the driveway for the stained glass, in a garden space that we simply call the Driveway Garden, which sits adjacent to the Pool Garden and the Deck House. Anyone coming to the Inn on Mill Creek Bed & Breakfast will see the artwork and we can see it from the Main House. It's especially awesome viewed from the Evergreen Room upstairs in the Main House. The sculpture's placement also gives Innkeeper Brigette lots of ways to incorporate it into the garden. The plan is to use different contrasting and complimentary plants and flowers each year (this year we chose striking red-orange coleus and purplish-pink grasses), along with the usual perennials.
As mentioned above, Barbara Brinson is the artist that created this beautiful commissioned artwork for us, and she has done several other pieces for us in the past as well, including a stained glass insert between the Evergreen Room and the Great Room, a piece with a geode hanging at the base of the steps to the Main House second floor, and the stained glass cardinal that hangs between the solarium and the kitchen area. Here is Barbara with our newest stained glass piece before it was installed in the frame.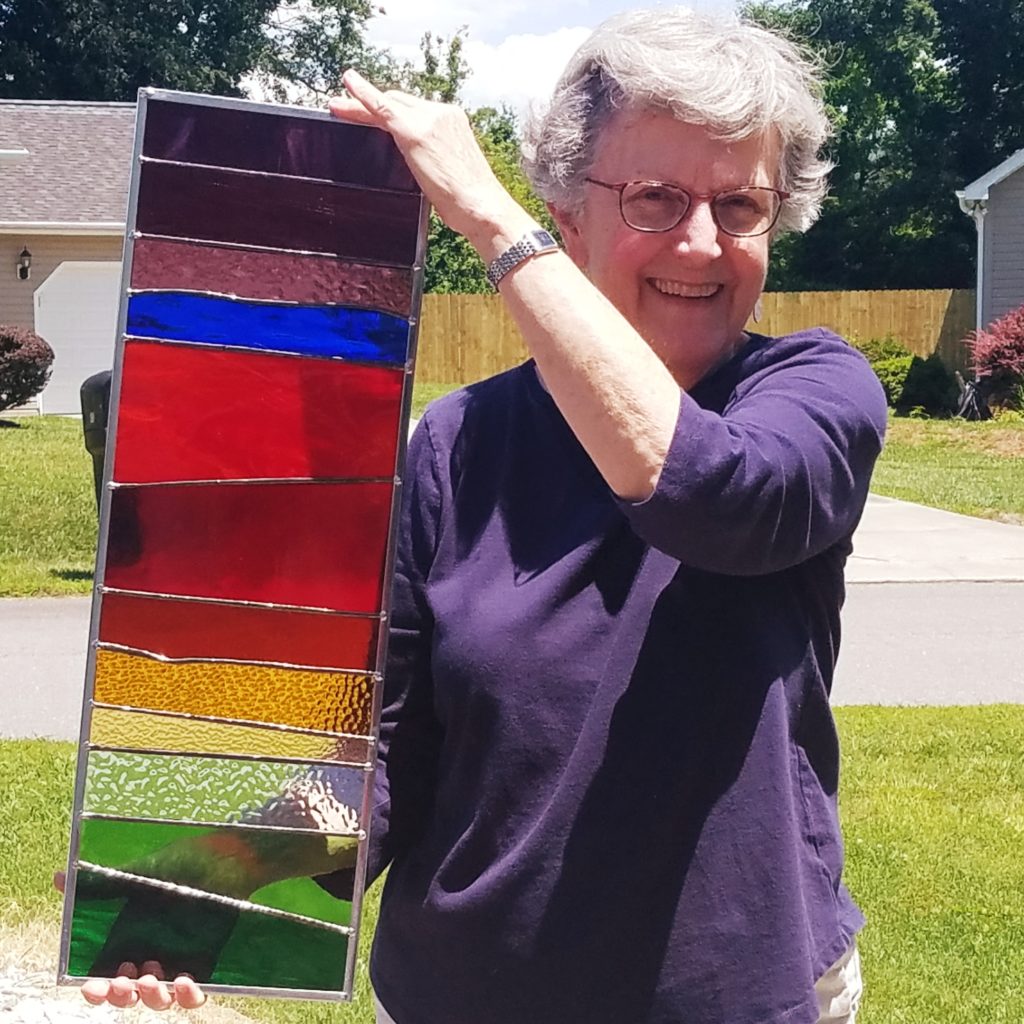 We did a short Q&A with Barbara to learn more about her background and her artwork:
How long have you been doing stained glass?
I had a sabbatical semester in 2006 when I was teaching in western New York, and I took a stained glass class to refresh myself while I worked on a project for school. And the rest, they say, is history!! I was hooked, and have been doing it ever since.
Do you have a favorite type of stained glass art, for example, birds/animals, abstract, etc.?
I enjoy doing abstract pieces the most. I have more fun making a general plan such as shapes, colors, and/or size, and then just starting the creative process. Sometimes I end up in an entirely different place than where I had originally planned to be! It's fun to work without a pattern. But I really enjoy it all!
What are your favorite colors to use when you are creating stained glass?
I love working with bright and bold colors. I also enjoy creating a piece all in different pieces of clear glass. I choose the glass according to texture and pattern and then arrange it in a (hopefully) pleasing way.
What is your biggest challenge when you are making a stained glass piece?
The biggest challenge for me is cutting curves. You have to be so patient and careful so the glass won't break in the wrong places. Also, the endurance required to stand for long periods of time as well as the toll this art takes on your hands are challenges as well. I get so involved in the creative process, however, that I don't realize it's time to stop until it's too late sometimes!
What is the most rewarding part of creating stained glass art?
The greatest joy in creating stained glass art is seeing the joy in the face of the person I created it for and knowing that my creation will continue to bring joy to others for a long, long time.
Thank you so much, Barbara, for this stunning piece! We certainly had looks of joy on our faces when we saw it… there may have been jumping for joy, actually. We look forward to seeing more of Barbara's work at the Inn on Mill Creek in the future!