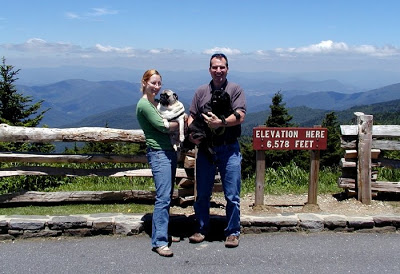 A couple of innkeepers and innpugs in the Black Mountains
We took the afternoon off yesterday to do two things. The first was to stop by local graphics company
Graphics Warehouse
, where we picked up our sign showing us as a site on the
North Carolina Birding Trail
(the mountain region of the trail opens today!).
Then, we and the innpugs, Csaba Pugga and Bugsy Pug headed north, up scenic Highway 80 in our county to the Blue Ridge Parkway. From there, we stopped at several overlooks to snap photos of different peaks in the Black Mountains, looking lush and green under a backdrop of clear Carolina blue sky as we made our way to Mt. Mitchell (a little over an hour's drive from the Inn on Mill Creek).
Mt. Mitchell, part of the Black Mountain range, is the tallest peak east of the Mississippi River (and in fact, six of the ten tallest peaks in the eastern United States are in the Black Mountains overlooking our area). As you drive southwest along the Blue Ridge Parkway, you can see Mt. Mitchell at an overlook: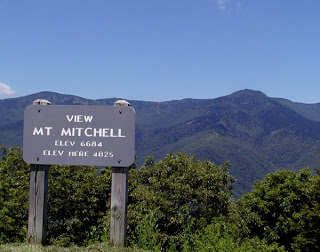 Driving further west on the Blue Ridge Parkwy, we turned north on Route 128 to Mt. Mitchell State Park, which has a restaurant, information center and a parking lot near the top, where you can take a short walk (uphill, of course) to the recently remodeled observation deck. Since we were standing on the highest peak in the eastern U.S., that meant for a short time, Csaba and Bugsy were the two highest pugs in the eastern U.S. as well.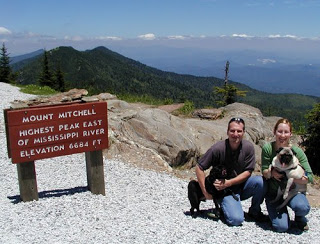 As mini-celebrities wherever they go, Csaba and Bugsy certainly enjoyed getting lots of attention from tour groups and other dogs while we were at Mt. Mitchell.
To get home, we drove back the way we came along the Parkway and stopped on Green Knob, which is the peak visible from our orchard. Standing on Green Knob, we think we were able to scope out the general area where the Inn on Mill Creek should be located amidst the green peaks to the south.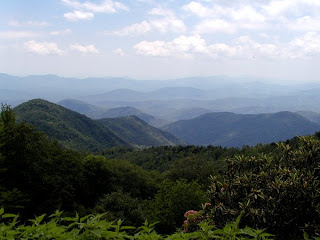 We live straight ahead, about 5 miles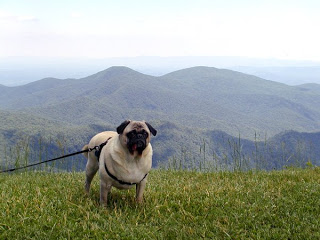 Csaba does his Julie Andrews "Sound of Music" impression on Green Knob
After following some cyclists (heading both downhill and uphill):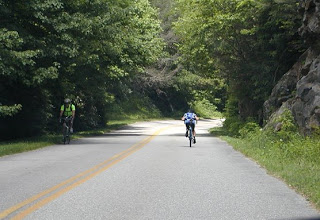 we then turned south on Curtis Creek Road, also part of our gorgeous McDowell County, which leads along trout-filled Curtis Creek, through forested areas and camping grounds back to the town of Old Fort.
About a third of Curtis Creek Road heading from the Parkway is unpaved and reminds us of our own road through Pisgah National Forest. And for good reason — a stretch of Curtis Creek Road (on the paved portion) contains the first tract of National Forest land in the United States, designated as such in 1911. And wouldn't you know it, there's a geocache nearby, which made our afternoon trip even more fun. We'll post about our geocaching adventure on Saturday.